Digital Solutions to Meet Guest Expectations for Personalized Services in the Hotel Industry
The article breaks down how hotels can address the demand for personalization with technology-enabled services.
Service excellence lies at the core of the hospitality industry, and providing the experience that the guests are looking for is essential for building up customer loyalty, a hotel booking rate and, eventually, its competitive edge.
One of the crucial factors that contributes to customer satisfaction is not only accommodating their needs and requirements, but also their desires. The article breaks down how hotels can address the demand for personalization with technology-enabled services.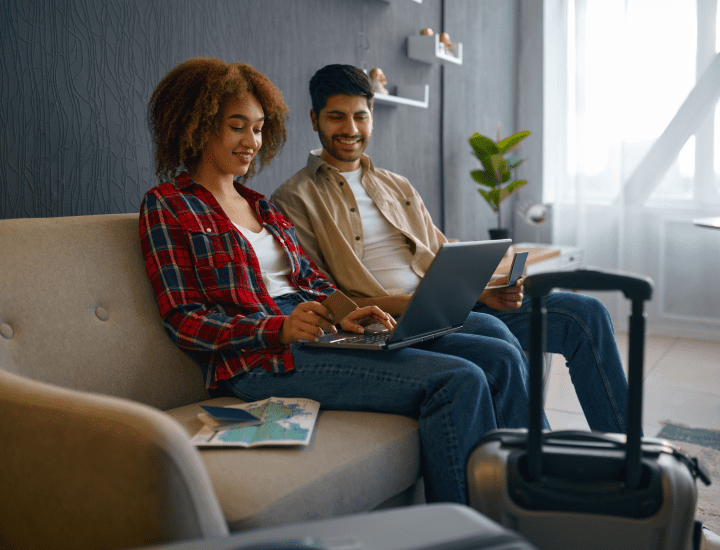 Customers Place a Heavy Value on Personalized Experience
The trend for personalization has been prevalent in various spheres of our life in the last few years. It is viewed as a vigorous business driver in the hospitality sector, since it addresses a large portion of customer expectations in 2022.
As uncovered by a recent survey, the majority of people (87% of respondents) are more likely to book services from the travel and leisure companies that offer opportunities for personalizing their experience, as travelers find such venues more appealing compared to those that don't.
Venue guests on a business trip or holiday tend to go out of their comfort zone once they find themselves in an unfamiliar location and rely on hoteliers to provide a comfortable guest experience and expect it to be adapted to their personal circumstances.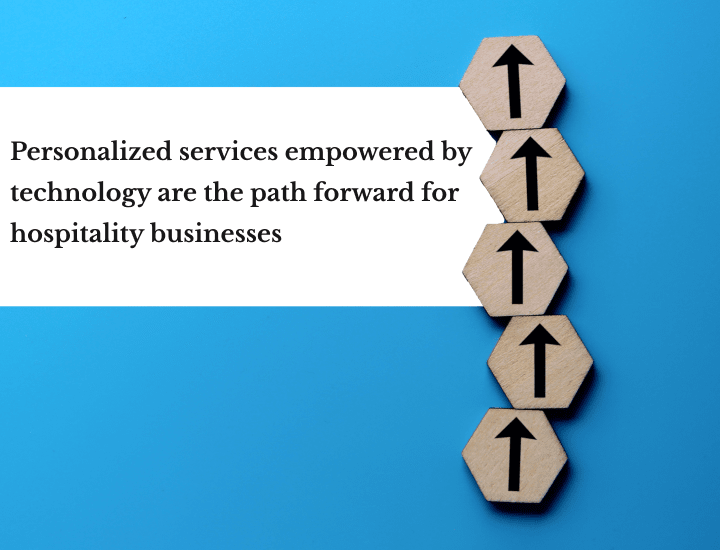 Personalized Services Empowered by Technology are the Path Forward for Hospitality Businesses
Customer experience starts even before the guests arrive at the venue with their interaction with the hotel website, which they have probably found through a search engine. With the anticipation of more than ⅔ of total revenue in the industry to be generated through online sales by 2026, it is crucial for hospitality SMBs to have a robust web service to be able to survive in the increasingly competitive landscape.
While a handwritten welcome note awaiting the guests in the room still remains to be a valued personal touch, more and more people are displaying a vigorous interest in technology tweaks offered.
As generation Z is getting more mature, it is increasing the portion of hotel customers that view digital services as a must-have for the hospitality sector. These guests don't imagine their lives without technology, as they have been using it since an early age.
Equally important, the necessity for enriching the venue services with digital tools is brought about by the ongoing worldwide pandemic.
Even though the industry is getting ready for reopening, the contribution of the pandemic is evident in a distinct desire of customers to keep their distance. Their preferences are growing towards hotels providing the opportunities for contactless services, like check-in and check-out, a digital/ virtual concierge and facility reservation services via a mobile app or a hotel web service.
Ways Hospitality Businesses Can Leverage Technology to Initiate Personalized Offerings
Personalization driven by technology is no longer a trend—it's an expectation. And it isn't complicated or expensive to put into practice.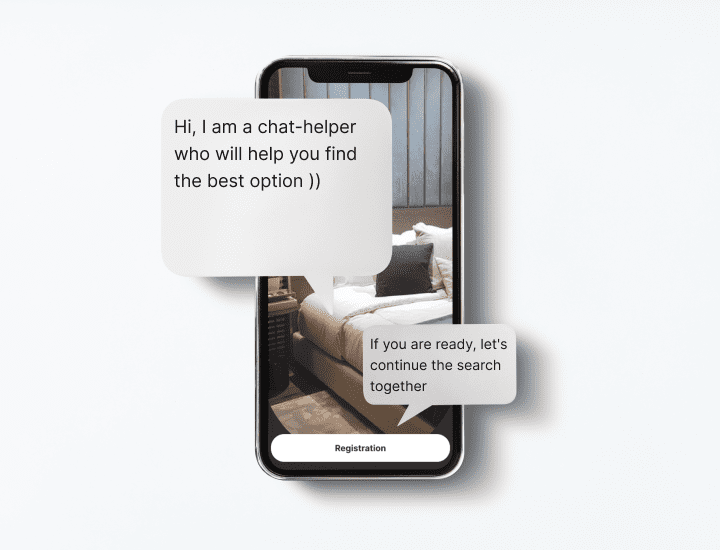 Adding a Hotel Chatbot Ensures Positive Customer Experience and Boosts Conversion Rate
Before making the choice in favor of your hotel, prospective customers will research its web service to find out if the venue meets their personal criteria. They will attempt to clarify diverse aspects of their stay, such as allowing pets in, available amenities, cancellation policies, etc.
Satisfying this need for information with the due speed is critical for turning website visitors into venue guests. Installing an AI chatbot is an efficient way of reaching that goal. Interaction with the chatbot saves the visitors from browsing through endless pages in search of relevant info. Instead, they get what they are looking for with a few clicks.
Once your chatbot has supplied the prospects with the relevant information and they have opted for your establishment for their next trip, let them complete the reservation without leaving the conversation form (bear in mind that if they leave your web service, they might not come back) by integrating a chatbot with the booking service.
Online Check-In and Check-Out Enhance Customer Satisfaction
There is no doubt that the majority of guests will appreciate the flexibility and convenience of a paperless check-in and check-out and remember to mention it in their 5-star reviews. This functionality enables them to use a web service to upload the necessary documents in advance directly from their smart device and sign digitally.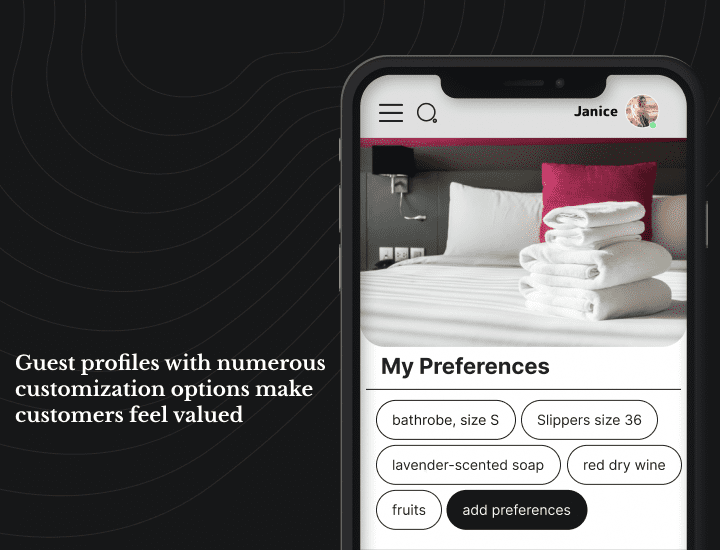 Guest Profiles with Numerous Customization Options Make Customers Feel Valued
To be able to respond to customer expectations, hotels need an efficient tool, capable of gathering and analyzing tons of relevant data regarding the guests' preferences. Integrating guest profiles within the venue web service will yield a deep insight into the clients' choices. Giving the customers the opportunity to login and submit not only personal details but also tailor their experience choosing from many options will give your hotel a big thumb up in their eyes.
For example, customers would be happy to modify their stay by detailing their dietary preferences, selecting essentials, like a particular scent or type of shampoo or soap, the robe size, requesting a certain kind of blanket and pillows, customizing the welcome basket (if it's offered) and drinks at the mini-bar.
Moreover, in response to customer expectations, the guest profile should include a feature allowing clients to order add-ons meeting their specific demands. For instance, guests traveling with young children often require installing a baby crib or a changing table in the room and other baby-related services. A recently married couple booking the suite will opt for romantic settings and rose petals sprinkled on the bed.
Numerous customization opportunities will not only appeal to the guests but also diminish the chances of them canceling last minute. It has been proven that customers are more likely to make a purchase if the product has several customization options to choose from, like color, pattern, size, etc. The same principle applies to the hotel industry. If the guests have taken time and tailored the stay to their needs, they already picture themselves arriving at the venue and enjoying it.
Technology Helps to Tap into Customer Expectations and Create Custom Loyalty Programs
Integrating guest profiles with the CRM service and property management systems (PMS) lets venue staff learn a great deal about guests throughout their stay cycle, store and use these valuable data to their advantage.
The insight into the customers' preferences provided by technology helps the hospitality business to shape a profound understanding of client expectations and anticipate the future trends in the industry.
Besides, it enables the hotel management to identify repeat guests and treat them extra special as well as enhance the relationships with existing customers and turn them into repeat ones by sending them post-stay emails tailored to their interests.
And last but not the least, the collected data are crucial for creating targeted loyalty programs with a much higher conversion potential. For example, if a specific customer books a spa during each stay at the venue, they are very likely to make use of the discount coupon on a bulk of spa treatments next time they visit a hotel. Thus, loyalty schemes with precise targeting are a powerful tool for increasing an order basket of each guest.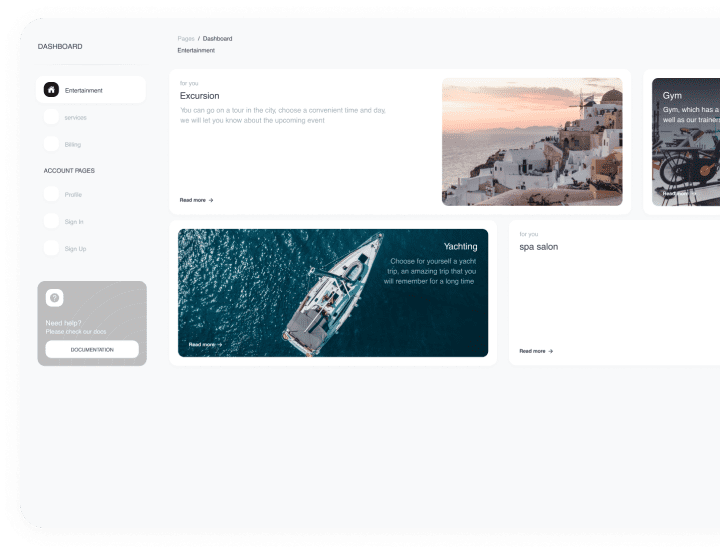 A Trip Planning Tool Offering Tailored Packages and Add-Ons Brings in Additional Revenue Opportunities
According to recent surveys, around 70% of respondents wish hotels gave suggestions of exciting activities to do during their stay. They have expressed a strong desire to go beyond the chief attractions in town and try out everything that the destination has to offer.
At the same time, a lot of travelers not only appreciate the possibility of tailoring their itineraries but recognise it as a decisive factor when choosing a hotel package.
The above facts lead us to the conclusion that enabling your clients to create unique and unforgettable moments is what will set you apart from the competition.
Having a multifunctional trip planning tool as a part of a hotel web service is likely to attract prospects and significantly boost the conversion rate.
Customers will be thrilled to discover a complete multilingual guide to the destination attractions in their guest profile and be able to personalize it according to their travel dates, schedules and areas of interest to make the most of their experience.
Hotel owners can leverage such a digital trip planner to upsell their own entertainment services as well as third party ancillaries.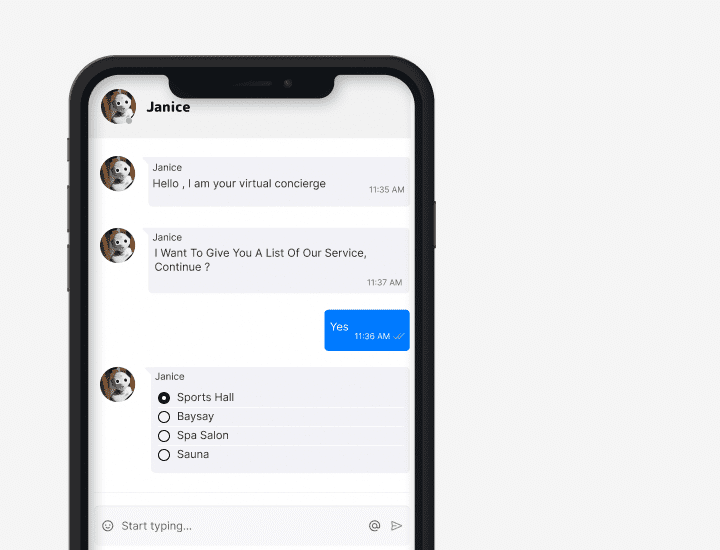 Multifunctional Virtual Concierge Skyrockets Guest Satisfaction, Venue Operational Efficiency and Drives Revenue
Here we will detail a contactless customer experience system designated to complement the hotel staff in assisting the guests with various requests, like ordering a room service, requiring some kind of maintenance service or looking for recommendations on what to do nearby.
In most cases, it addresses the client's needs by resolving the task on its own, yet it is able to forward it to a competent hotel employee when needed.
Not infrequently, a virtual concierge is mistakenly taken for a digital concierge. Despite the fact that the concept of a virtual concierge somewhat resembles a digital one, they aren't the same thing. Digital concierge is an interactive screen in a hotel lobby or a certain place within the venue, used by guests for getting information and booking/ordering activities. While a virtual concierge has a similar functionality, it provides a far more advanced level of convenience, as all the interaction takes place via the web application on a guest's device, disregarding the location.
Integrating a virtual concierge solution within the hotel web service rather than having it as a separate application dramatically enhances the guest experience. It gives the opportunity to skip the app installation phase and enables the guests to kick-start their interaction with the services offered by effortless logging into the venue website using a QR code.
What Benefits does a Virtual Concierge have to Offer?
The guest needs to undertake a few clicks on a smart device to:
Receive instant access to beneficial information (that a hotel employee might not be able to supply) any time such a need arises. For instance, a local weather forecast and the temperature outside, relevant phone numbers, working hours of the on-property restaurants or room services, etc.
Have the requests for complementary services handled fast. The guests can get:
Short-term rentals of technology basics, in particular, chargers, batteries, e-readers, watches for running, etc.
Assistance in organizing events and conference
Besides creating exceptional experiences for the guests, the virtual concierge brings tremendous advantages for venue owners. To start with, it reduces the workload of venue staff and enables them to perform their duties impeccably. In terms of operational service, they can use it for effortless Lost and Found management and guest recovery purposes. The virtual concierge helps to sufficiently decrease the number of negative reviews, as it allows visitors to file complaints during their stay and makes sure they reach the right person and get resolved before going public.
Being immensely appealing for the guests due to its convenience, the tool demonstrates the tendency to sufficiently increase add-on sales and presents hefty revenue scaling potential for hotel owners. The virtual concierge is proven to increase the volume of orders on average by 30%, while skyrocketing the number of orders by 300% in some cases.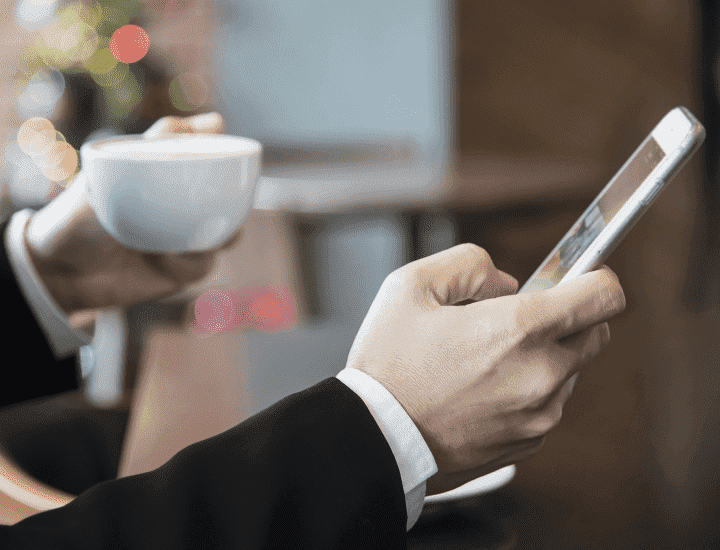 Service Excellence Driven by Technology Maximizes Business Growth
In this article, we have presented 6 digital solutions that enable hospitality SMBs to serve their customers better by creating outstanding guest experience. Better understanding of what drives your customers and adjusting your services to accommodate their expectations bring about service excellence that subsequently adds to a positive brand image. The latter translates into a power marketing tool for engaging prospects, maximizes customer loyalty and facilitates business growth. About 75% of customers for hotels and restaurants report they would choose to stay at a particular venue if they had a positive experience with it in the past, whereas one bad experience can lead 25% of guests to choose your competitors.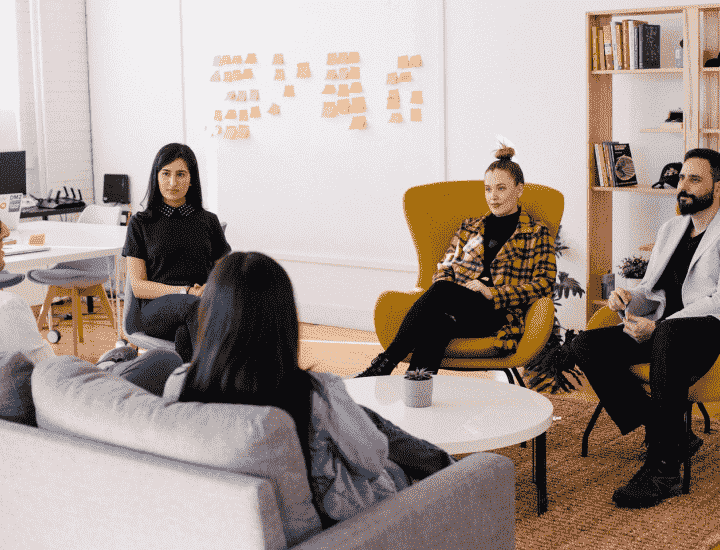 How Can BandaPixels Help you to Enhance Personalization at your Hotel?
Banda Pixels is an RND company that helps businesses achieve more with technology. We develop efficient custom technology solutions that meet the strategic needs of our customers. A highly competitive pricing policy enables our partners to get fast returns on their investments in IT.
The portfolio of the company boasts a lot of successfully fulfilled projects in the hotel industry.
We are skilled at developing cost-effective technology solutions of different complexity levels that address the hoteliers' issues with automation and artificial intelligence.
Don't hesitate to contact us and discuss how to boost your growth with technology.
by Vlada Hladyr
We are here to help, around the clock, every day.
Related articles
Last articles
Fill out the form and receive the book by email
Error: Contact form not found.