Why Your Hotel is Short of Staff and How Technology Can Help
How to solve staff shortage issues with technology. Restaurant e-commerce, AI chatbots and different modules
Across the globe, virtually every industry was affected by the Covid-19, yet the travel and hospitality sectors suffered the most serious repercussions. For instance, US air passenger volume plummeted by more than 90% in March 2020, and in April 2020, U.S. hotel occupancy dove to 25%.
After intermittent closures and financial losses, the hoteliers are now facing one more challenge of understaffing. The problem of personnel shortage had already been affecting lodging businesses before the pandemic started, but Covid-related restrictions became the root cause of a significant hotel understaffing this year.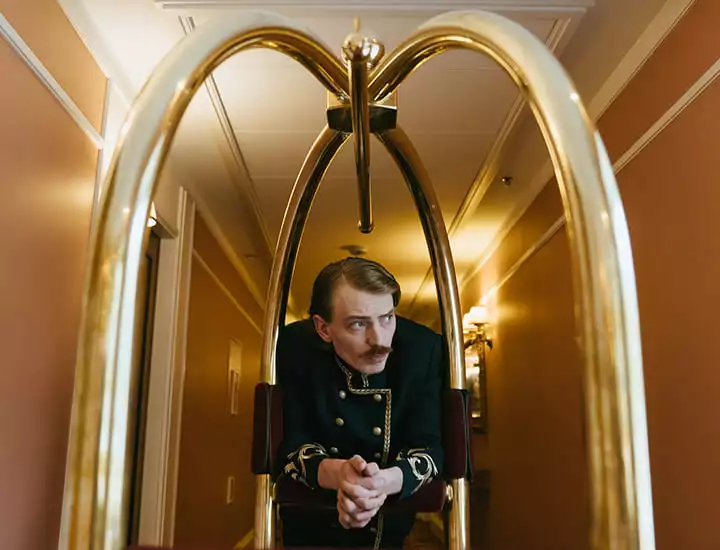 Major Reasons Leading to the Talent Shortage in the Industry
Today's lack of staff has been brought about by a number of compounding factors, the major of which is Covid-related closures. For instance, in the midst of the pandemic in the USA, 36% of accommodation, hotels, and food services underwent government-mandated closures and only ⅓ of them continued to pay their staff while they were not working. Government restrictions caused furloughs and layoffs of about a quarter of the hospitality workforce during the first year of the pandemic. As people got accustomed to ever-changing circumstances, the staff were becoming more and more aware of the gloomy perspectives in the industry, and the hospitality sector experienced a second major hit. In August of 2021, 890,000 workers left their jobs (double the national average). As of October 2021, there were 300,000 fewer workers in the hotel industry than two years prior.
Secondly, the perception of the hospitality industry as the one with long and irregular hours has been combined with an even bigger workload, caused by the lack of personnel. So former employees are not eager to come back to their old jobs. Moreover, working in hospitality is associated with low pay, long hours, bad benefits and poor work-life balance. Such an image influences potential new hires and further complicates the process of employing and keeping talent.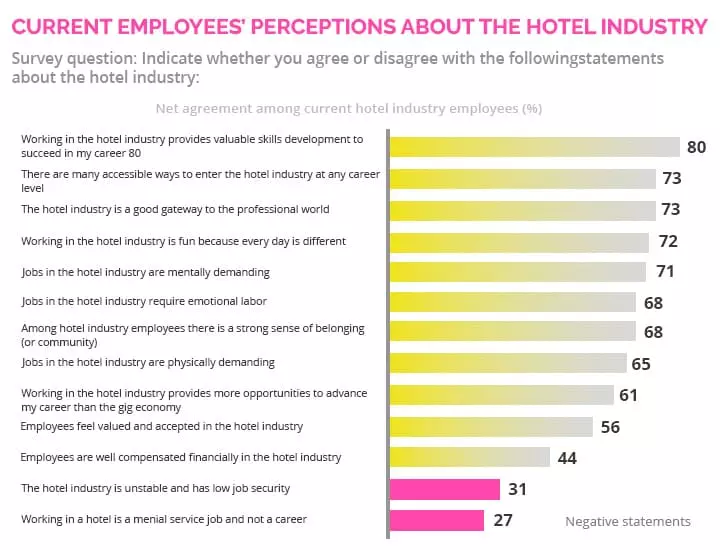 Third, there has been a shift in the priorities of current job seekers in the last two years. Talent acquisition teams across all industries point out mental health and flexible work arrangements as top preferences of the candidates.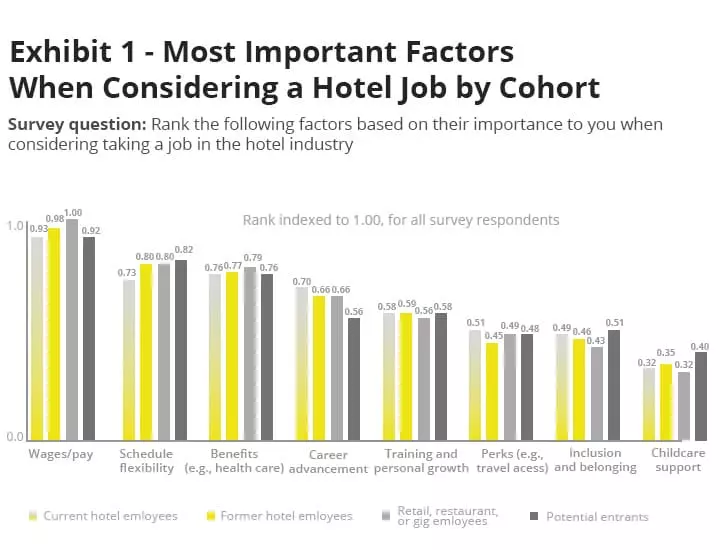 The Hospitality Industry is Rebounding
The vaccination has changed the gloomy outlook of the travel and hospitality sectors. In 2022, these industries saw a peak of demand in comparison with the last two years. An increasing demand among the following groups of travellers: leisure travellers and remote workers stipulated the peak.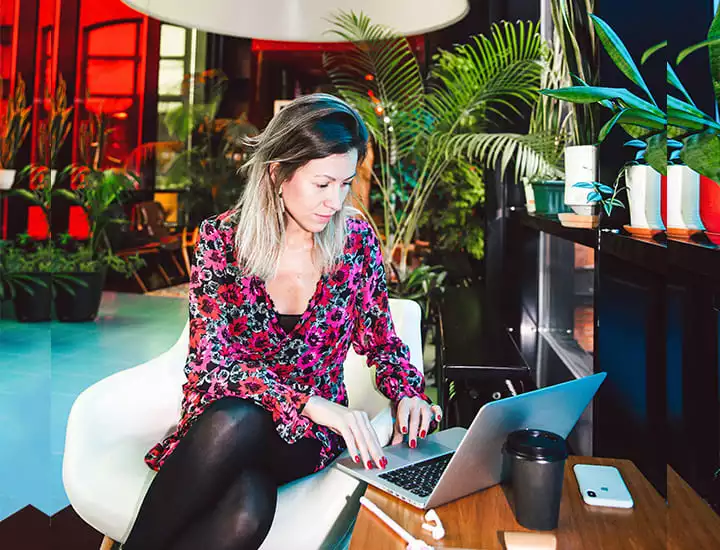 Why are "laptop luggers" important?
Travelers willing to combine work and leisure while away planned twice as many trips this holiday season. More than half of these 'laptop luggers' tend to extend the duration of their trips by 3+ days because of remote working.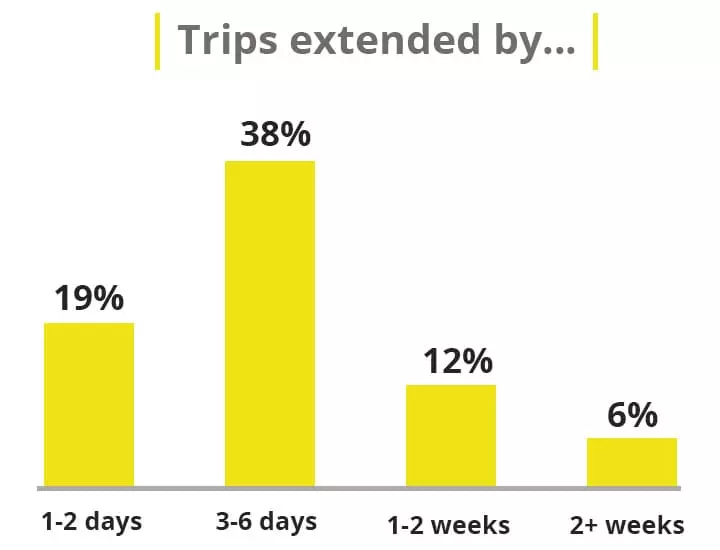 Moreover, this category of guests was more than twice likely to increase the budget for their leisure trip in comparison to 2019.
As we can see, the rise of remote work has significantly increased the number of guests in hotels. This group of customers has an above-average buying power and more flexibility regarding travel dates. At the same time, their needs are somewhat different from the ones of regular travellers, as they are stipulated by work and leisure combo:
a quiet and comfortable space;
fast and reliable Wi-Fi5;
availability of wellness-related amenities, such as healthy meals, fitness equipment and activities;
flexible scheduling of in-destination activities to be able to balance leisure and work.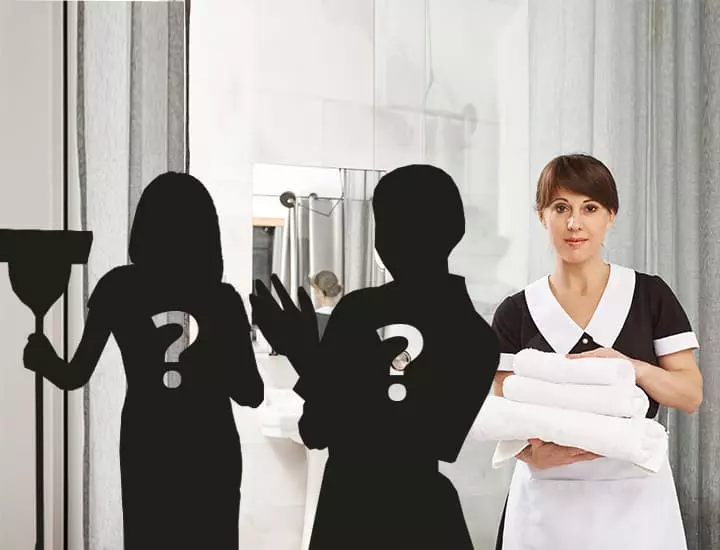 Understaffing Catastrophe
With much bigger demand this year, the hoteliers faced a new challenge of understaffing. At present, the majority of venues are struggling to fill in vacancies and deal with the inconveniences caused by the staff shortages. According to the survey conducted by the American Hotel & Lodging Association (AHLA), 97% of respondents admitted experiencing a staffing shortage, with 49% claiming to be severely understaffed.
Lack of competent people is affecting the services delivered in a negative way and results in hotels failing to meet the guest expectations. For example, many hotels can't provide housekeeping services in full scope (58% of respondents ranked it as their biggest challenge) and have been forced to adopt a by-request-only housekeeping scheme. The same applies to room service and food and beverage amenities.
Apparently, a lot of hospitality businesses are losing part of their amenities-driven profits and are desperate to employ more staff, ready to hire an unqualified workforce. For instance, Accor, Europe's largest hotel chain, is employing candidates without experience or even résumés.

Accor chain includes 5,000 hotels and employs over 230,000 staff globally, yet it is short of 35,000 workers. Because of that, Accor hotels have to stop serving lunch or temporarily close their restaurants from time to time.
The majority of hotels are doing their best to fill vacant positions and are offering various incentives, such as higher wages, flexible hours, and a bigger number of benefits. According to AHLA's latest Front Desk Feedback survey of more than 500 hoteliers, nearly 90% of respondents have admitted increasing wages, 71% are ready to provide increased flexibility in working hours, and 43% have extended benefits. These efforts have produced positive results: in the last 3 months, respondents have managed to hire 23 new employees per property, yet they still need to fill an additional 12 positions. Ninety-seven percent (97%) of respondents say they have been unable to fill all open positions.
Apparently, there seems to be a long road ahead in recovering from the talent shortage in the hospitality industry.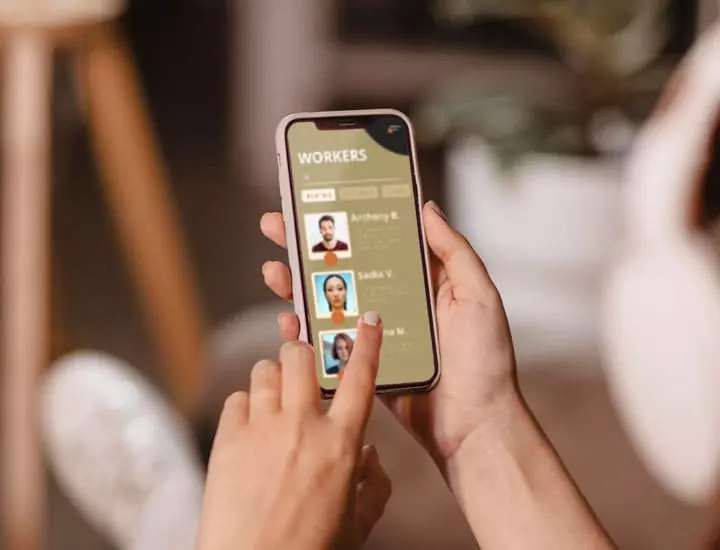 How to Solve Staff Shortage Issues with Technology
Investment in technology is a practical solution for hotels to make up for the staff shortage and significantly improve the guest experience. One primary strategy to handle staffing shortages in the hospitality industry is to try to automate as many tasks as possible. In particular, activities that are repetitive or predictable can often be done automatically. This technology can range from labor management software to various self-service options that will reduce staff workloads and increase guest satisfaction.
Human resources management
As the staffing shortages that have hit the hospitality industry bring a lot of inconvenience and money loss to the businesses, it is essential for hoteliers to make their labor management system as efficient as possible. The custom solution for your hotel will solve a lot of issues regarding hiring and human resources management with the following functionality:
Recruitment and onboarding module allows HR managers to work with lots of candidates at the same time. It will help both small venues and multi-site hospitality operators to select the best talents and cut the time and costs spent on a recruitment process. The software covers the entire cycle of dealing with candidates throughout the recruitment and onboarding stages.
Vacancy workflow feature enables:
setting up custom workflow for each vacancy;
selection of the application form used for each position, the quantity of interview rounds, the kind of assessments required and email templates to be used.
Candidate management is easy and efficient:
Quick review of CVs, acceptance or rejection of candidates.
Shortlisting candidates' CVs for further review.
Online interviews booking for candidates.
Assessment scoring for interview outcomes management.
Making offers via standard templates.
Onboarding module:
Saves managers' time spent on data entry for newcomers, enabling new employees to complete their own onboarding online.
Captures new employee's bank details, work history, qualifications, education and training info to add them to the HR records automatically.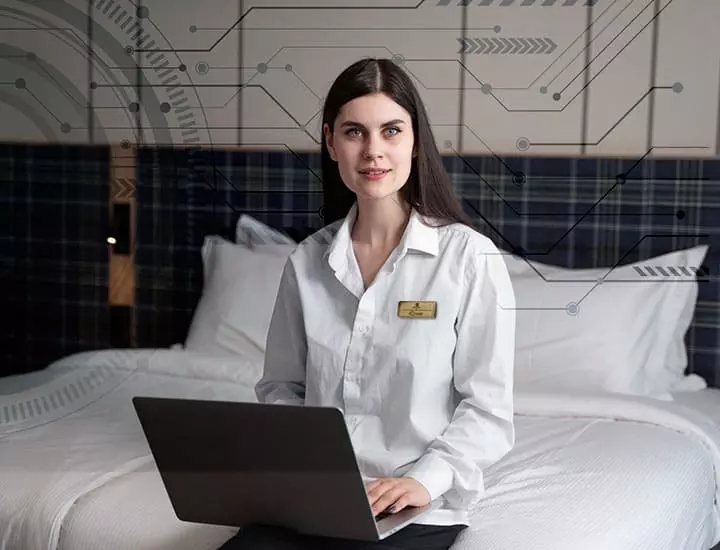 Training management module
The tool will help hoteliers to up-skill the venue personnel. It enables organizing and running internal and external courses, keeping track of staff training absences and view results and qualifications acquired.
Training courses:
Set up an unlimited number of courses with pre-defined information.
Specify a category and determine content, target group, aims and objectives.
Results and qualifications
Assign qualifications gained upon completion of training courses.
Record the results achieved by each attendee and appoint qualifications and their expiry date, if applicable.
Performance assessment module
It is the tool for staff assessment that enables tracking personal scoring, achievements and results of each employee.
Employees see their ratings (employee scorings) that are based on guest ratings, manager's ratings, ratings of a system that records the time spent on tasks completion and assigns points.
The system also provides an opportunity to undergo advanced training (tests, exams, training for a new position).
Payroll management
The tool will give you the opportunity to automate a lot of payroll functions, taking into account staff shift patterns, flexible hours, overtime and multi-role positions that are typical of multi-site bar, pub, restaurant and fast food environments.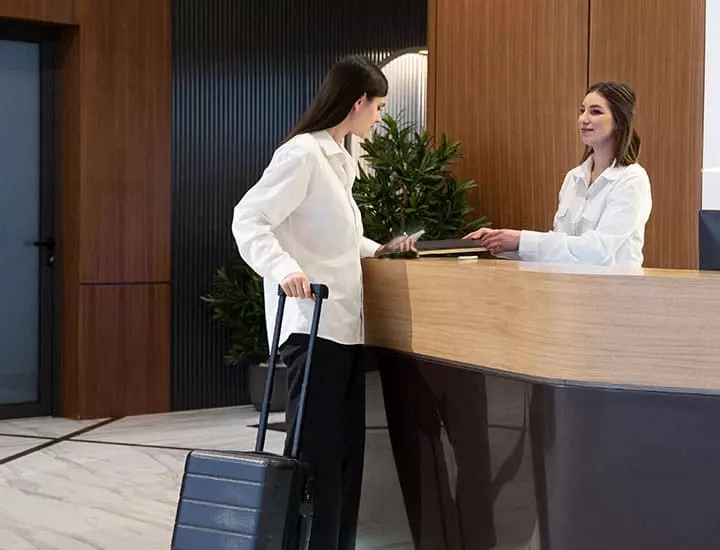 Contactless Check-In and Check-Out
Contactless check-ins and check-outs are one of the best solutions for reducing the workload of the reception staff, which will also add to the guest experience at the venue. The guests will use a mobile app to complete both procedures without having to deal with the hotel personnel. The possibility of 24/7 check-ins grants the guests more control of their time and increased convenience. Besides, it is beneficial to the hotel management, as it allows them to use the workers more efficiently.
AI Chatbots
Artificial intelligence is a powerful tool for automating routine processes and performing fast analysis or data. AI-powered chatbots are capable of performing a lot of functions of hotel staff and can successfully replace humans. Chatbots are especially beneficial for customer service, as they can deal with customer queries, transfer complicated questions to the relevant staff and gather useful information about guests behavior.
Lodging businesses can successfully apply this technology to reduce the impact of staff shortage in the industry.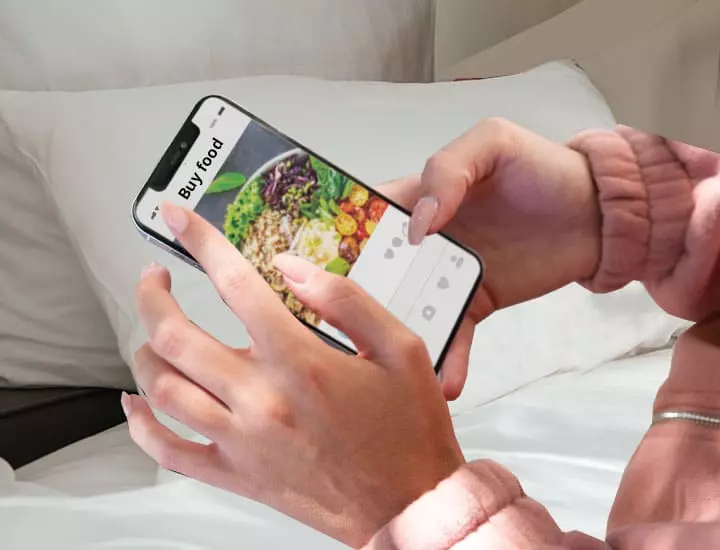 Restaurant E-Commerce
The demand for ordering online peaked during the pandemic, and a lot of businesses responded by offering e-Commerce options on their websites. Given the staff shortage issue within the hospitality industry, it is important to set up an online ordering system for the hotel restaurant. It will allow the customers to place takeaway orders, or to book a visit to the restaurant while pre-ordering their meals.
Besides additional income from the takeaway services, the hotels can leverage the online ordering service for a more efficient restaurant management with less staff. They will receive advanced notice of what dishes have to be prepared, which will significantly streamline the restaurant service and increase customer satisfaction.
Wrap Up
Dealing with talent shortages is a tough task you (as a hotelier) face, yet we can offer you a number of practical solutions. We can develop tools to automate your common tasks, please your guests with more flexibility and convenience through self-service options, let them enjoy a more seamless experience, which is less reliant on contact with staff. As the IT company that specializes in custom software development, we will look into the issues you face and build the services that tap into the specific needs of your business.
With a strong portfolio of successfully fulfilled projects in the hotel industry, we will use our experience and expertise to your advantage. Contact us to discuss how we can address your needs with automation and artificial intelligence.
by Vlada Hladyr
We are here to help, around the clock, every day.
Related articles
Last articles
Fill out the form and receive the book by email
Error: Contact form not found.