How Modern IT Technologies Drive Profitability in the Real Estate Business Domain
Tap into the Needs of a Modern Home Buyer. Major Buying Groups for Residential Real Estate. Real Estate Technologies
Businesses make money through the successful marriage of two aspects – cutting costs and building up their sales/ deals generating potential. If your company is struggling with streamlining these 2 processes, you might take a closer look at the potential IT has to offer regarding this issue.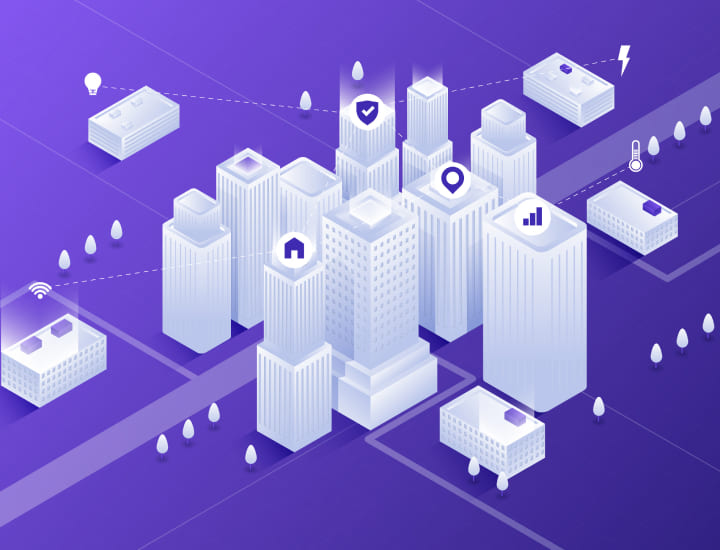 When we talk about real estate technology, the concept of Proptech instantly crosses our mind.
So what is Proptech exactly? Proptech can be defined as the application of smart technologies and approaches to the real-estate sector, making it easier for people to search, buy, sell, inhabit and manage properties.
Proptech comes in many forms and is meant to perform 2 functions:
Cutting costs through:
saving time and resources;
informed decision making.
Deals generation due to:
meeting the customer expectations;
Before we jump into exploring the real estate digital aspect, let's have a look at customer expectations and challenges faced by business in this industry.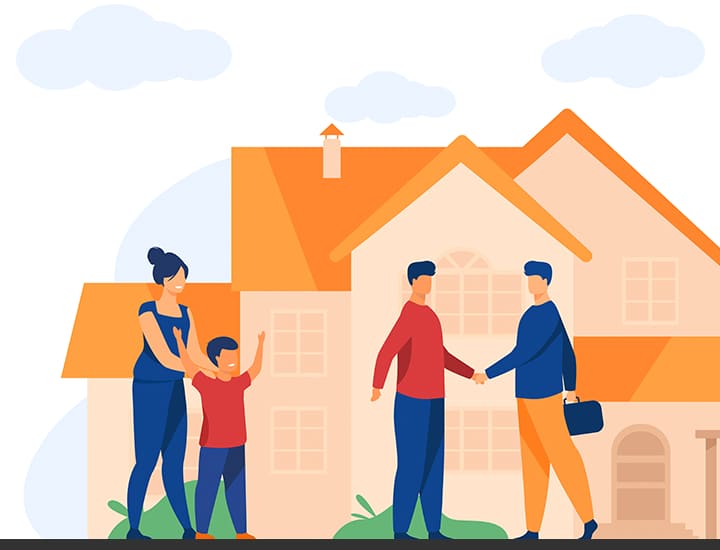 Major Buying Groups for Residential Real Estate
Prospective homebuyers account for half of the population of the USA. Millennials make up 65% of first-time home buyers, having maintained their leading position since 2010. Generation X comes second, comprising 24%. And this trend will continue to grow in 2022. (National Association of Realtors, 2019)
New real estate trends and forecasts reveal the following important statistics:
44% of new homeowners research properties for sale online first;
73% of customers used a mobile or tablet device to make purchases in 2021;
shift in communication: the majority of millennials express their interest in a particular property by sending a message. They also prefer to text if they have questions or want to schedule an appointment. Phone conversations are usually reserved for urgent matters.
According to the NAR research, agents are embracing the demand for electronic communication: 90% of agents communicate via text, 94% of agents use emails, and only 36% of agents chat with clients via instant messaging.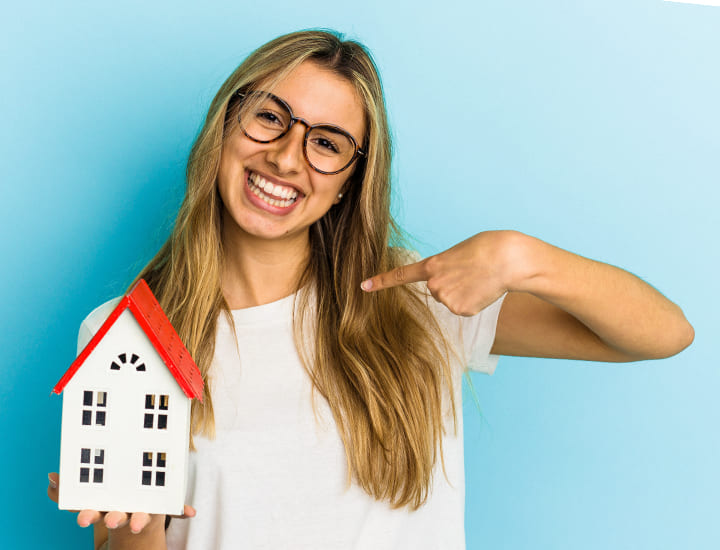 How to Tap into the Needs of a Modern Home Buyer
Finding the right property was ranked highest (56%) among all generations as the most difficult step in home buying. Making this process as easy for the customer as possible will lead to more closed deals, won't it?
If you are looking to build a real estate web service/improve the existing one or develop another proptech product, its success directly depends on addressing the needs and expectations of the major buying group of the market.
Besides having essential features, the emphasis should be put on the ones that are sought after by the prospectives the most. Here are the most appreciated features for a real estate website, according to the NAR 2019 report:
Photos (87% of respondents);
Property details (85% of respondents);
Digital floor plans (52% of respondents);
Virtual tours (46% of respondents);
Agent contact information (42% of respondents);
In addition, customers emphasize the following:
Information regarding recently sold properties;
Neighborhood characteristics;
Since 2019, the customers' preferences have evolved, making the above list broader: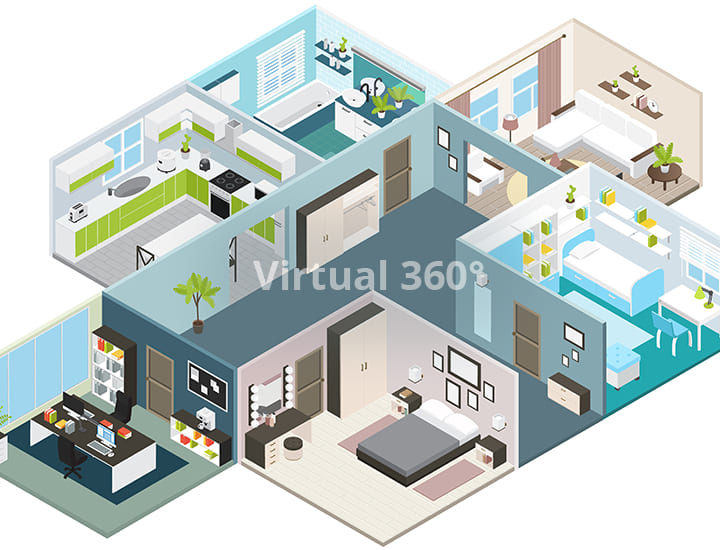 Virtual tours enhanced by Artificial Intelligence
The increasing demand for virtual home tours is one of the leading trends taking place in the proptech sector. Thus, at Zillow, which introduced this feature during the Pandemic, agencies that accompany their listings with 3D home tours are 32% more likely to be marked as "saved" than those that don't. Having gained recognition among the customers, the trend was embraced by the realtors: 72% say they will continue to offer virtual inspections even after the pandemic is cleared up.
Zillow's already popular 3D Home Tour option has been upgraded, now offering potential home buyers and renters the ability to view still images and AI-generated floor plans in a unified interface. AI can also predict room size and square footage.
After the 3D tour, the interactive floor plan is automatically uploaded to the list and can also be added to the MLS, embedded on the website or shared via email or social media.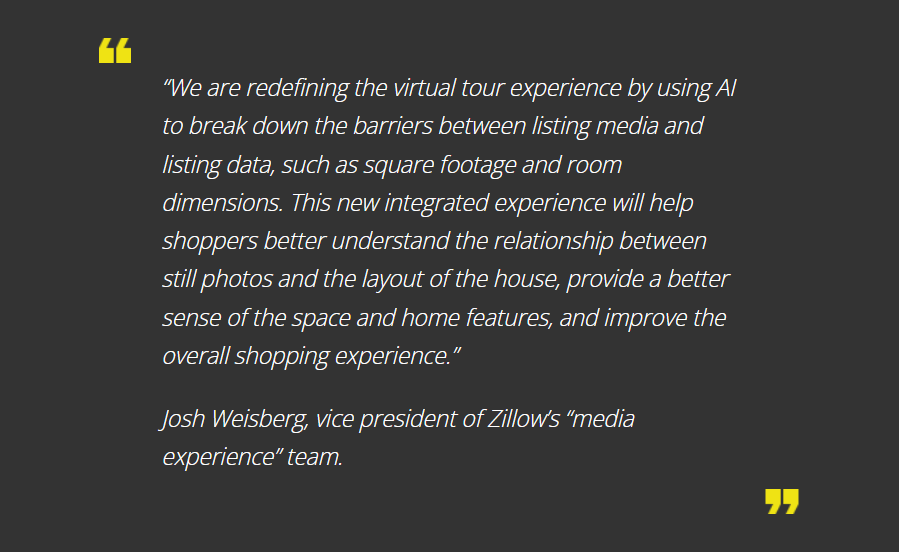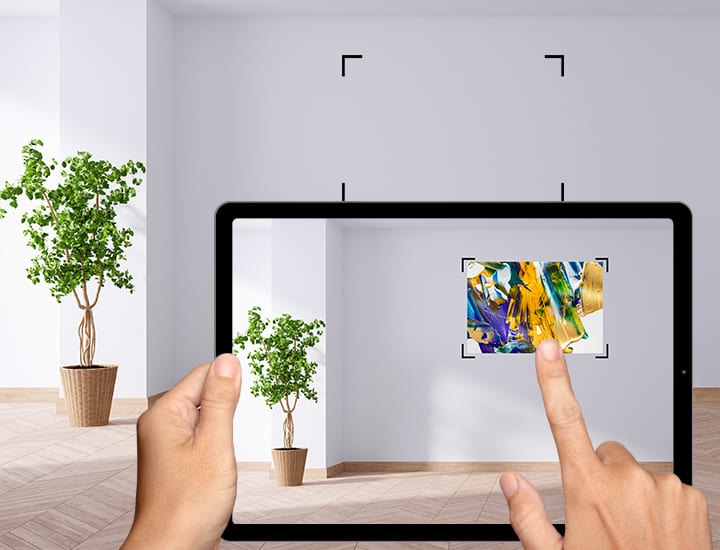 Augmented reality speeds up a decision-making process
Users are always confused if the proposed property fits the type of amenities they would like to have in their home. The main reason is that the photo shows a 2D image of the property.
Here, augmented reality allows users to view and interact with 3D images of the property. This means they can transfer products from one corner to another and help them design the look of their home. Additionally, the technology makes it easier to measure apartment/property dimensions in real time.
Overall, this helps the customers make decisions faster.
E-signing
Fueled by the pandemic, eSigning real estate agreements became a mainstream solution.
Besides helping real estate companies tap into the customer preferences and expectations, a robust web service is a powerful tool for streamlining the internal workflow of the company. Curious how? Find more details in the following article.
46 % of real estate companies cited keeping up with technology as one of the biggest challenges facing their firm in the next two years. Does that sound familiar? If so, our team of professionals can take the weight off your shoulders. Let's talk.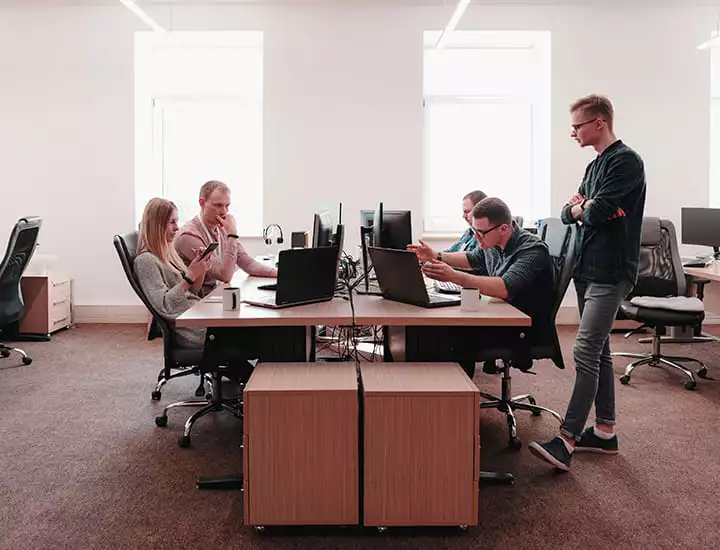 What are Tenants' Expectations of Commercial Real Estate?
Pandemic-related changes have taken place in the office market, bringing in digital connectivity, space adaptability and well-being into the spotlight of post-Covid tenants.
Tenant expectations for office amenities have transformed: technology combined with health and safety are now two of the priorities that are highlighted more than ever. Competition among landlords has also undergone alterations. Landlords now have not only to compete with other office buildings owners, but also have to offer amenities that surpass the advantages of a home office. Currently, only 13% of office occupiers believe that commercial real estate owners (CREs) are ready to meet tenant needs.
As tenant expectations evolve, there is a great opportunity for landlords to implement new policies and add new building features or amenities to support tenant satisfaction.
Smart technologies that enable organizations to achieve their sustainability and well-being goals are playing an ever-increasing role at the workplace of the future.
84% want to install smart technology that improves well-being, and 78% want landlords to prioritize smart technology that improves energy efficiency, underscoring the huge need for constant connectivity. More than half (55%) of businesses that have relocated their offices in the past three years also believe it is the landlord's responsibility to address connectivity failures, underscoring the growing responsibility of the landlord for the smooth functioning of digital infrastructure.
CBRE's survey found that 73% of companies capitalize on the hybrid work model and intend to employ it in the future.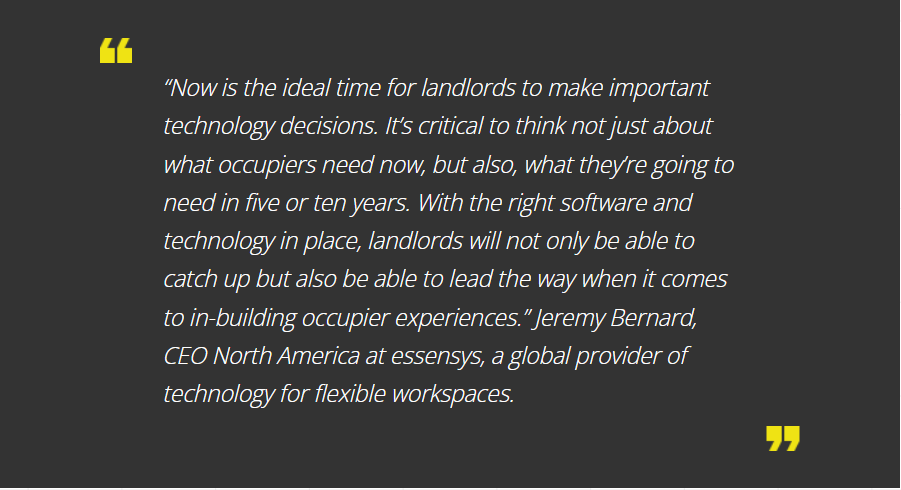 What are your thoughts about this? Do you agree?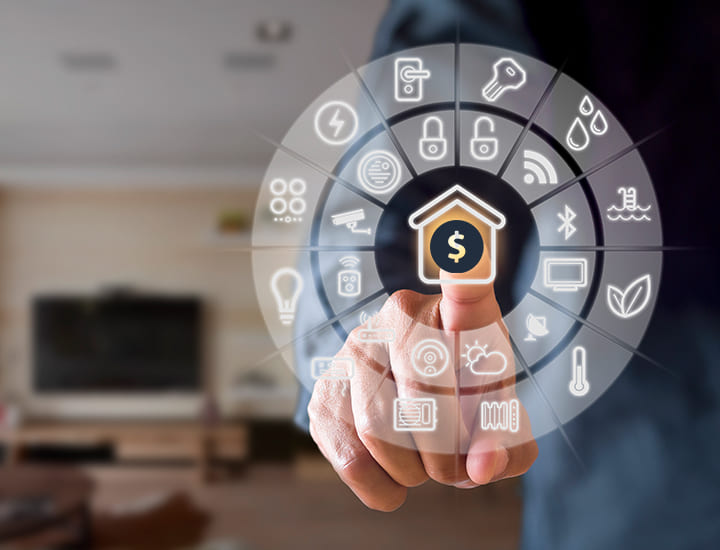 Real Estate Technologies that Bring Income and Competitive Edge
Real estate business domain, including commercial property (Retail buildings, Office buildings, Warehouses, Industrial buildings) as well as residential property rely heavily on a number of technologies.
1. Easy building management through IoT
The Internet of things (IoT) refers to objects that are equipped with sensors and able to process data, as well as software and similar technologies that link to and exchange data with other devices and systems via the Internet or other types of communications networks.
IoT is a system based on "smart" devices and applications that are constantly connected to cloud-based software. IoT-powered technology grants building management the power of automation that allows numerous essential processes to run consistently without human attention. IoT is beneficial for property owners, facility and asset managers, and other real estate professionals, as well as tenants, due to its ability to address and simplify complex problems they face.
Data Monitoring and Record Keeping
Sensors located within the property are able to collect a wide spectrum of data about the facility conditions, such as temperature, humidity, air quality, people presence, etc. Automation of data tracking ensures system viability and fast reporting of any issues arising.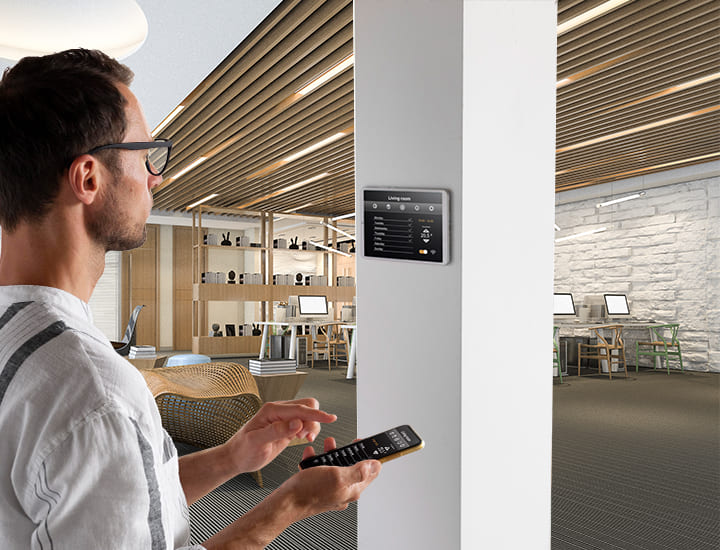 Reduced costs and environmental footprint due to utility savings
IoT technology collects and processes building occupancy data gathered through sensors and adjusts HVAC and other settings to meet occupancy needs in the most cost-efficient way. Automatic temperature adjustments and motion-triggered lighting optimize energy systems to reduce waste.
Enhanced tenants' well-being and satisfaction
Tenant satisfaction is an important benchmark of your company's success. With the growing popularity of smart homes and building technologies, occupants expect enhanced comfort within the property, which is not about indoor temperatures anymore. Air quality, lighting and humidity lie at the core of occupants' understanding of well-being. Landlords can take advantage of wireless IoT sensors to keep indoor conditions at the optimal level.
Leveraging motion data, managers can carry out a precise assessment of traffic and usage in different spaces in the building, thereby prioritizing cleaning services. Likewise, smart parking systems help provide a positive tenant experience and eliminate productivity losses from blindly searching for parking spaces.
By transmitting information through smart devices, facility managers and technicians can be alerted to problem areas and make repairs faster and cheaper. By integrating IoT with CAFM and CMMS solutions, you can set alert levels for sensor readings and receive notifications when they are exceeded. By transmitting information through smart devices, facility managers and technicians can be alerted to problem areas and make repairs faster and cheaper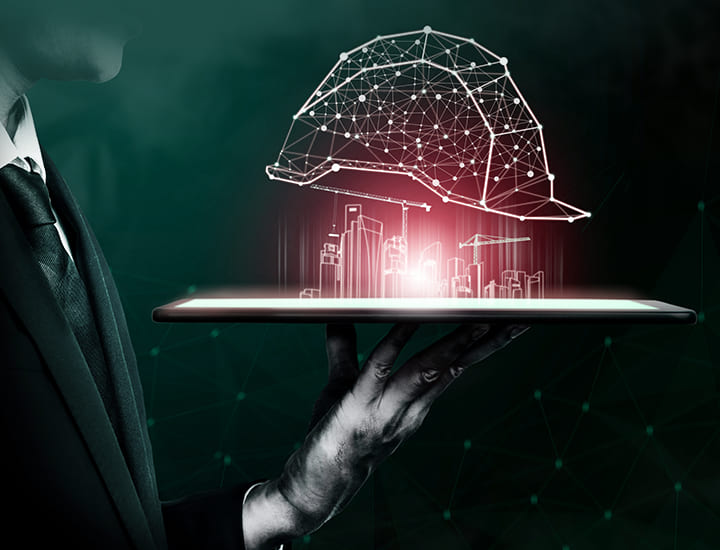 2. Artificial Intelligence
One of the biggest trends in real estate is AI-driven systems. AI is used to improve numerous spheres of building management, from market forecasting to safety measures.
Improved customer service
AI-powered chatbots improve customer service by providing fast personalized responses to customers' queries 24/7. Capabilities of Artificial Intelligence go beyond chatbots and it can be specialized to solve specific problems and integrated into management systems.
AI-powered services can make transactions much easier, offering features like optical character recognition. It can scan various documents and/or fill in financial checks prior to the transaction.
A big advantage of AI is its ability to predict market trends and make business-critical forecasts that companies need to pay attention to. For example, AI can examine data that show trends in rental growth rates and which tenants have a greater chance of renewing.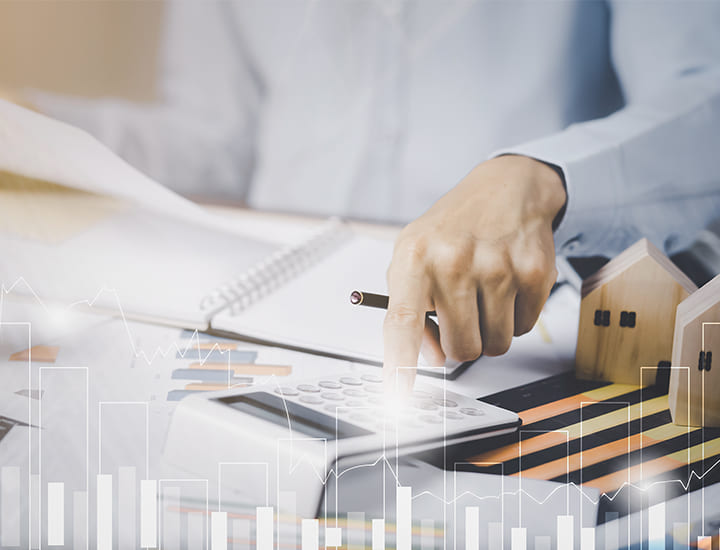 3. Big Data and Analytics
The concept of Big data was initially applied to data sets that greatly exceed the amounts of information that can be handled by conventional data-processing software. 
Very often, though, this term stands for using various types of advanced data analytics methods, like predictive and user behavior analytics, which extract value from big data.
Risk elimination through predictive analytics
Real estate market is full of risks. The market participants – buyers, sellers and agents leverage the given technology to give a reliable insight into the future of the market and possible fluctuations.
These analytics can harness data on a wide range of factors, such as appreciation and crime in specific areas. The resulting analysis produces a comprehensive picture of the potential risks and benefits of investing in a specific property at a certain time.
Target marketing and accessibility
PropTech can use data to improve the ability of real estate professionals to market to specific groups of customers in a personalized way. Agents can leverage predictive analytics and machine learning to collect data about potential buyers' online activities and profiles, in order to offer the most relevant property options that meet their needs best. Besides, technology allows buyers to view property details through listing platforms and remote technologies such as virtual and augmented reality.
Real estate companies can process vast amounts of data to predict human behavior, adapting property searches to their clients' needs. A process called data mining breaks down large amounts of data to reveal patterns and trends.
Are you ready to start saving money, attracting more clients and generating higher profit with technology? Yes, but you feel at sea and are not sure how to embark on your digital journey. Share your concerns with us. BandaPixels is a team of professionals that are highly competent in full cycle development, starting from concept validation and strategy guidance to quality assurance of a delivered product. We are committed to our partners' success and invested in delivering value at every single stage of a development process. You can leverage our extensive experience in creating robust solutions in the real estate business domain. Don't take our words for granted, explore real projects that we created for our clients in the real estate and hotel industry.
by Vlada Hladyr
We are here to help, around the clock, every day.
Related articles
Last articles
Fill out the form and receive the book by email
Error: Contact form not found.