Task management and staff collaboration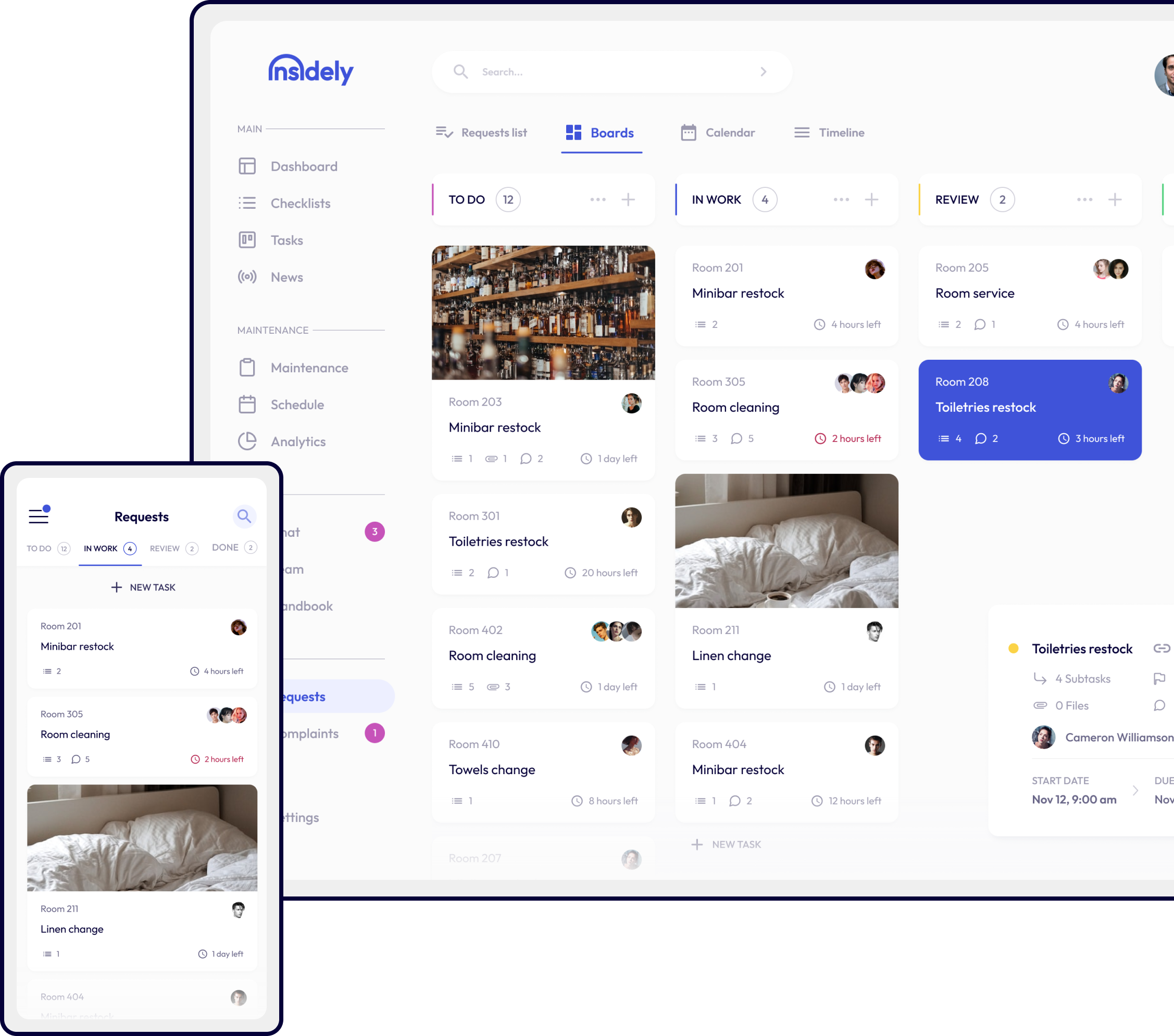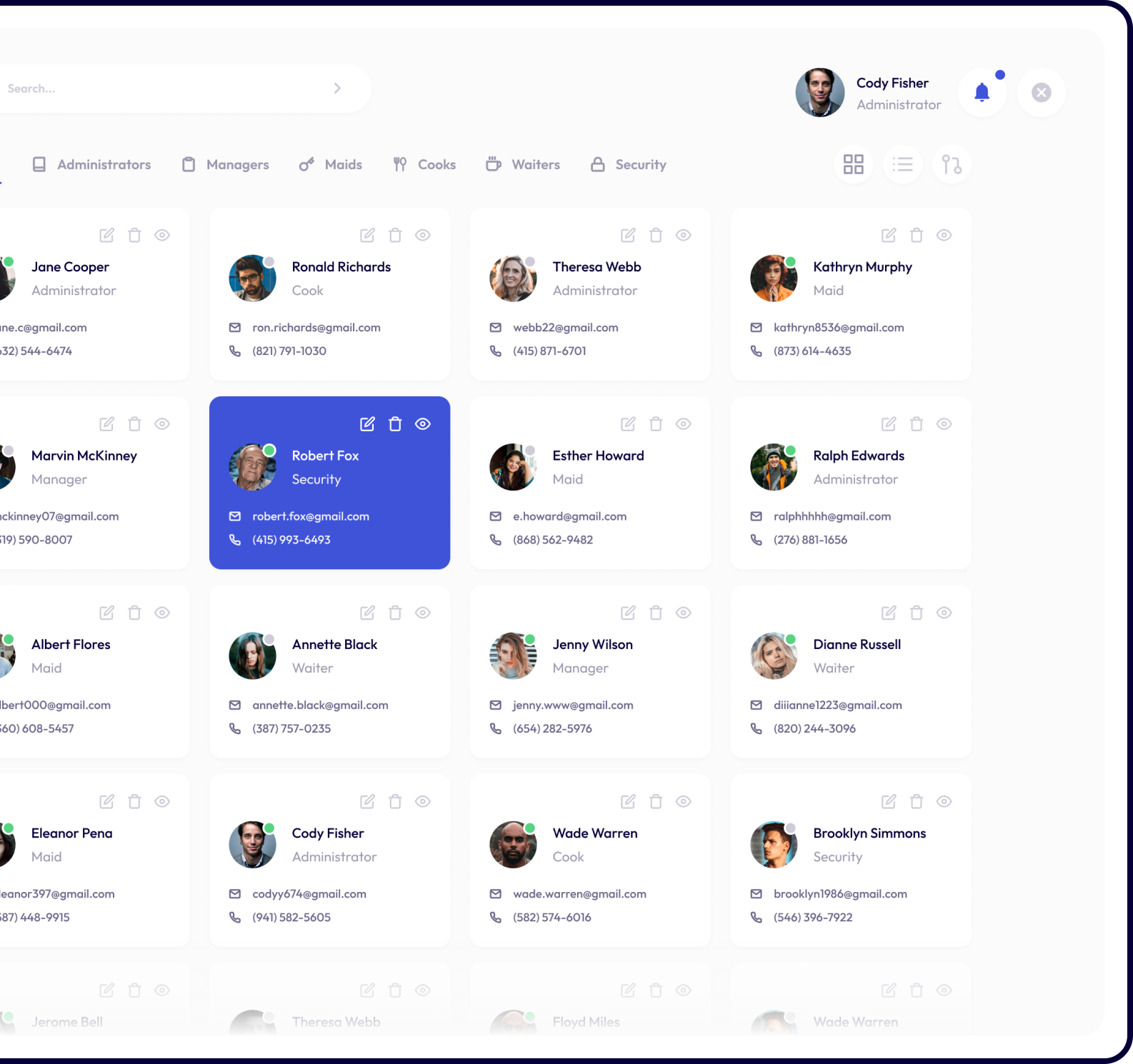 Insidely is a feature-rich solution for managing internal operations of a hotel and streamlining staff collaboration. It consolidates separate daily hotel operations typically performed by different department members into one transparent and easily manageable system. It is an efficient tool for organizing, tracking and improving all housekeeping and maintenance activities. Enhanced with a resource module for staff training and guest service tools, the application boosts overall staff productivity and increases the service excellence of a hotel.
Hotels are operations-heavy institutions, and these activities take place in different locations at different times, which makes it difficult to efficiently oversee and organize them across different shifts, departments, floors and properties. That's why our clients needed a full-fledged operation management tool to be able to abandon traditional staff communication methods/ways (logbooks, post-it notes and mobile messengers) that often resulted in time loss, costly mistakes, service delays and complaints from guests.
Top priorities of the project included functionality for staff collaboration , setting and monitoring housekeeping activities,handling maintenance operations and improving overall maintenance status of the property.
Besides, the hotel management needed a system of organized training resources for new staff members, given a present high staff turnover at the venue.
Last but not the least, collaboration with guests also required some improvement, as the hotel sometimes receives complaints about overlooked or unresolved requests. As it has been found out that such situations occur because of insufficient communication between shifts and departments, it was agreed to add guests requests and complaints management tools.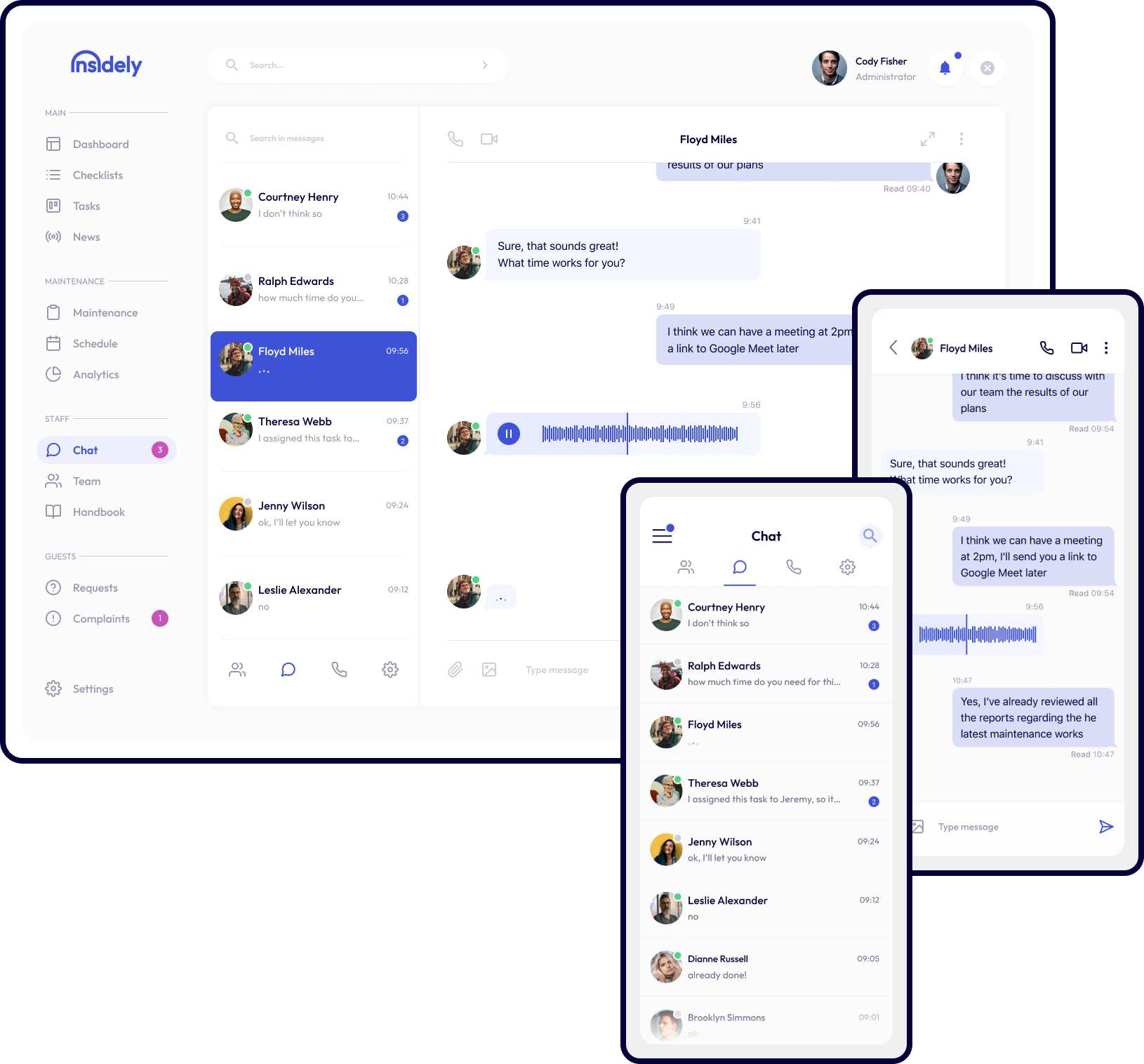 Timeline
Back-end development
4 months
Front-end development
3 months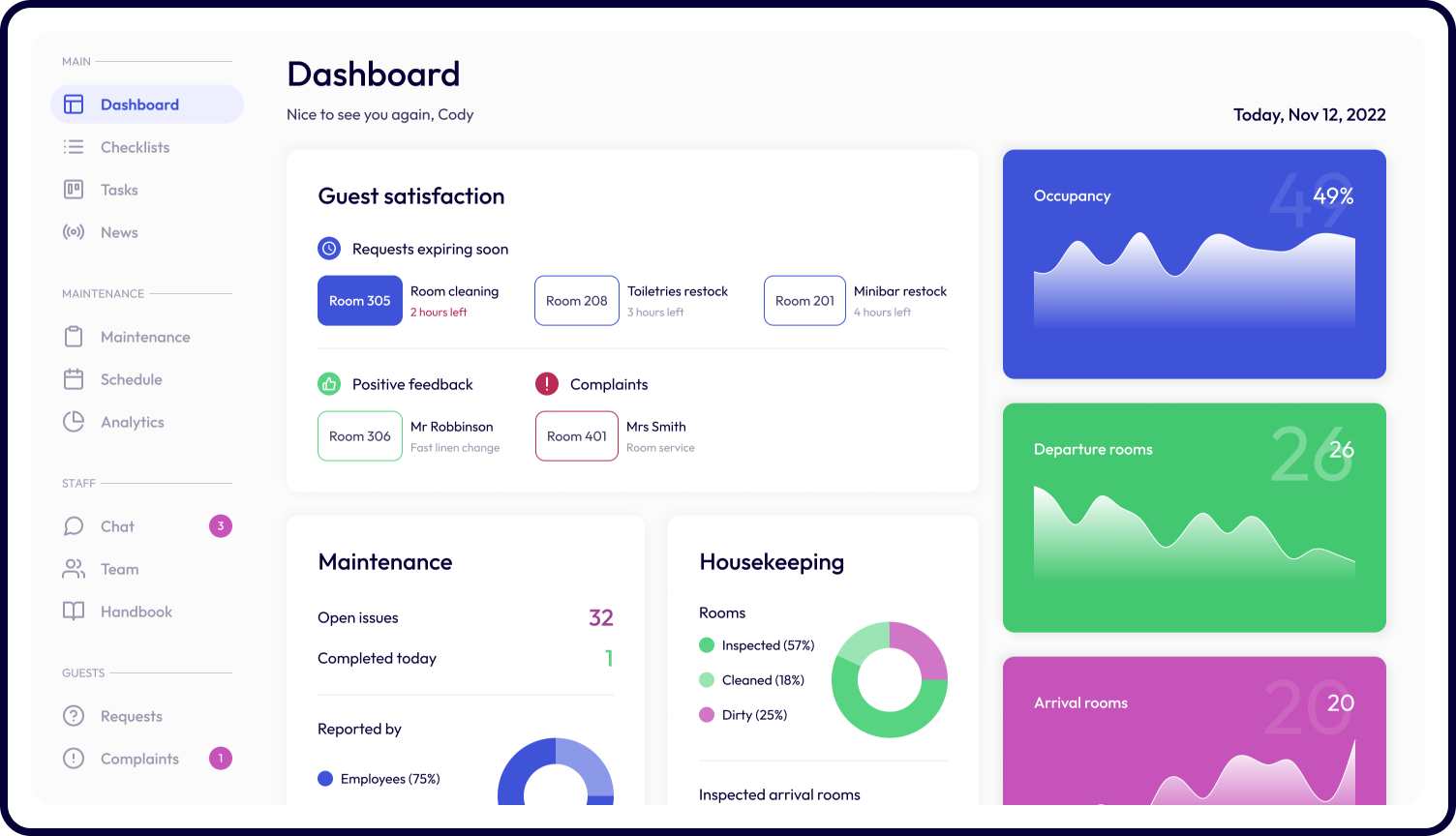 Project owner benefits
Insidely ensures everyone is on the same page regarding everyday hotel activities, which boosts staff productivity and facilitates cost savings through operational efficiency. The possibility of real-time monitoring of hotel operations means hardly any unfinished/ overlooked tasks, unexpected issues, miscommunication, or costly mistakes.
Main goals of the project

streamline communication among staff members

organize more efficient shift work

achieve accountability and trackability of housekeeping operations

improve maintenance services

facilitate training of new staff members

upgrade hotel service excellence
The hotel wanted to better staff training and have a digital database with checklists, guidelines and manuals
We have added a
Handbook feature
that serves as a knowledge source for staff. It enables managers to assemble various collections of staff training materials, such as standard operations procedures (SOPs), guidelines, tutorials, articles, photos and videos.
A more efficient way of keeping the staff informed was needed
News & Announcements feature
has been added for instant share of important news and updates among hotel staff. It can be used to introduce a new staff member, notify the staff of team/ hotel events or regulations updates.
The hotel required one central place to keep track of all maintenance work and resources
Our team has built a comprehensive module for end-to-end maintenance management with the following functionality:
Maintenance issues reporting

- each staff member can take a photo of the problem, write details, and create a maintenance ticket in seconds.

Notifications

- maintenance teams are instantly notified of any problems, can view details in the application, including pictures, room numbers, and notes from the staff who reported the issue.

Preventive maintenance schedule

- used to create a schedule of preventive maintenance procedures to avoid unexpected equipment break-downs, extra costs and unhappy guests.

Inventory control

- makes sure the hotel never runs out of stock by keeping track of the maintenance supplies usage and issuing notifications to restock in time.

Contractors network

- the feature makes it possible to organize the records of your external hotel maintenance contractors and coordinate collaboration with them directly from the application.

Analytics

- the feature analyzes the hotel maintenance performance data and costs involved, and generates custom reports on the most frequent problems and team/ contractors productivity.
The hotel needed a housekeeping management tool to plan and supervise housekeeping tasks
We have worked out a housekeeping management module that allows the hotel staff to:
Schedule housekeeping tasks

in advance and assign them to different team members.

Mark tasks as completed,

including confirmation of room cleanness, linen change, minibar restock, maintenance inspections and other essential criteria.

Comment

on tasks and/or report a maintenance issue in real time.

Analyze and create reports

of housekeeping performance to optimize costs and ensure high quality housekeeping service for your guests.
The hotel was looking to improve communication among departments and sharing info between shifts
Our team has suggested the following tools:
Staff chat

- a messenger for staff communication.

Digital handovers

is a feature for creating digital handover notes and making them visible to other staff members.
The hotel had problems with overlooking special requests from guests and wanted to improve its guest services
Guests requests tool

has been developed to note down and keep track of guests' special requests. Having guests requests in the system notifies the right team members and helps the staff to address them asap.

Complaints tool

has been added to help the staff deal with complaints from unhappy guests more efficiently. This feature allows the staff to easily document the details of the issue(s) and assign the right people to deal with it, as well as set up a follow-up series until the problem is completely resolved.
The hotel needed a tool to organize to-do lists
We have added a Checklist feature for creating detailed step-by-step to-do lists.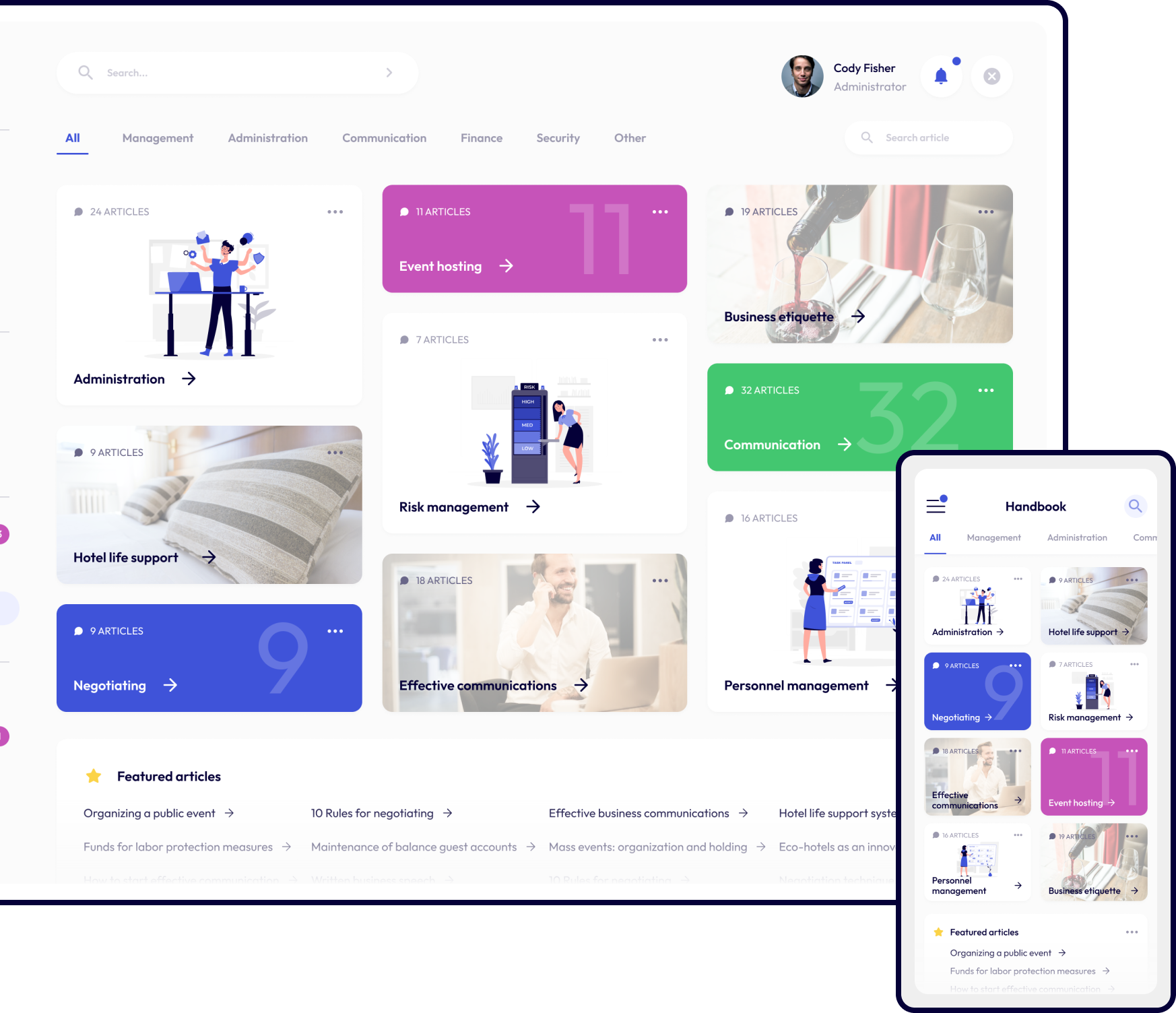 Functionality
Staff communication and interaction:

features like Messenger, Handovers and News & Announcements facilitate productive communication and collaboration among hotel teams.

Task management:

task setting, task status updates and schedules ensure proper and timely task completion by staff.

Alerts and notifications:

right hotel staff members and/or teams are instantly informed of any issues and can address them asap.

Checklists:

automatically notify shifts and departments of routine duties to avoid missed deadlines and make sure nothing is overlooked.

Databases:

keep track of housekeeping and maintenance inventory as well as contractors network. Create a custom knowledge base with training materials.

Analytics and reporting:

Monitor performance, identify trends and determine opportunities to improve and develop.
Features that make this project unique
Maintenance management:

Maintenance issues reporting

Notifications

Preventive maintenance schedule

Inventory control

Contractors network

Maintenance analytics

Housekeeping management:

Schedule of housekeeping tasks

Tasks completion checklist

Tasks commenting

Housekeeping performance dashboards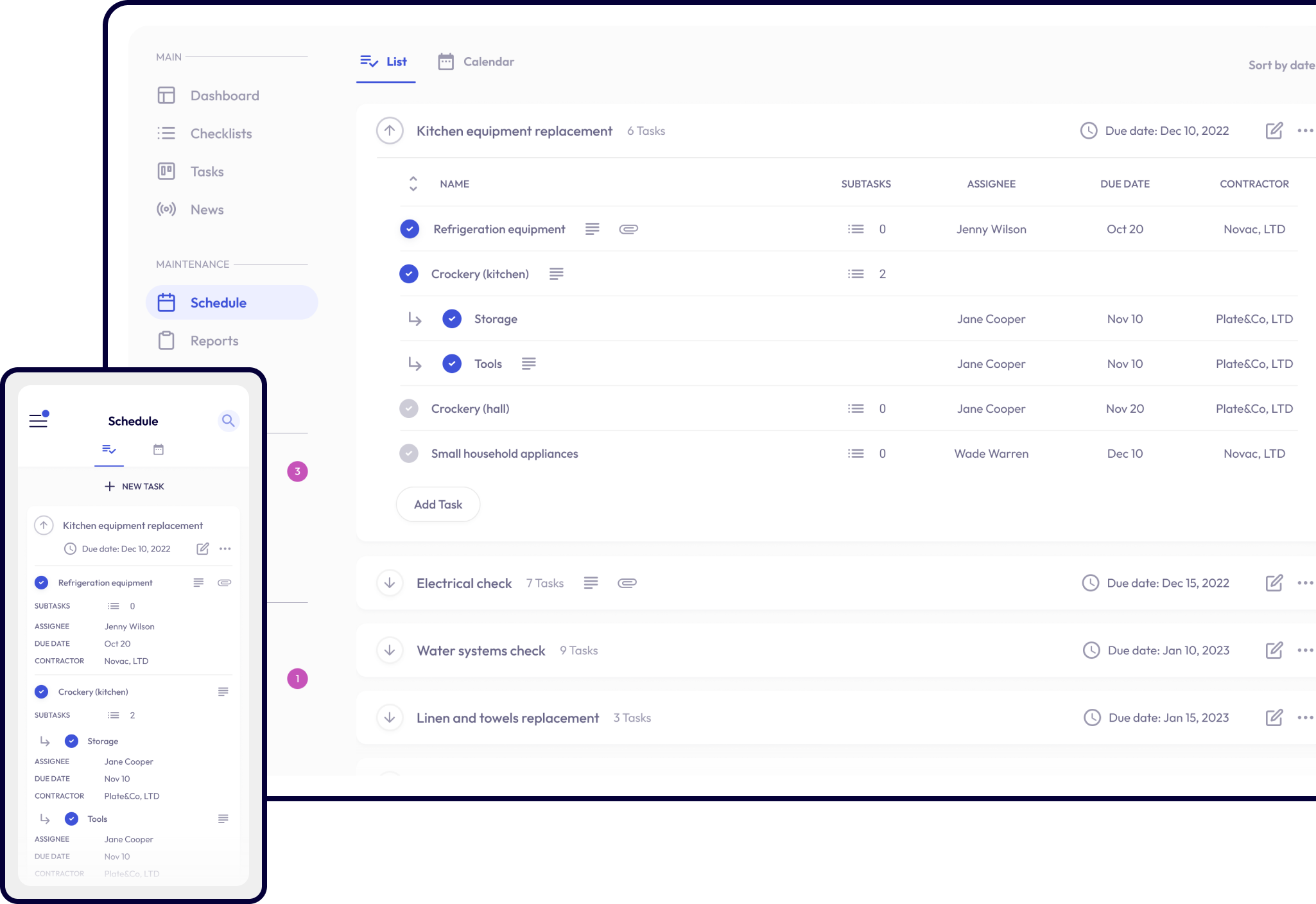 Tech stack
HTML5

Node JS

SCSS

Typescript

Express

Mongoose

Angular 10

Figma

MongoDB

AWS (S3)
Results
We have created amobile-friendly staff collaboration and task management progressive web application with an intuitive user interface and powerful functionality. The system helps hotel teams collaborate in real time and enables quality performance, supervision and comprehensive insights into hotel operations 24/7.

BandaPixels has demonstrated professionalism in every aspect of our cooperation. The development team was able to come up with the ideal solutions for all our requirements. In the end, we have a smoothly-functioning application that meets our management priorities. We will definitely recommend BandaPixels as a trusted IT company.
Optional features that can be added to similar project types
In-app translation

facilitates collaboration among multilingual staff.

Room status

feature assigns various statuses to guestrooms, such as "cleaned", "out-of-order", etc.

Lost and Found

is a feature for easy management of guests' lost possessions: unique ID for each item, item status, automatic records of the guest name, room number, item description and where it was found/lost, a filter option for quick search.

Virtual concierge

- an AI-based tool for automatic dealing with guests requests and service orders.

Individual workload and schedule management

- workload overview and schedule generation for each staff member.

Performance statistics and evaluation

enables performance assessment of departments as well as each worker individually.

Room booking management

enables monitoring of guest room bookings to get them ready in time.

Events booking management

helps to stay on top of all event activities and makes preparation hassle-free.

Reputation management

feature helps to monitor and interact with hotel reviews left by guests on different online platforms.

Forecast

- by establishing integration with a hotel's PMS, the system will be able to do projected estimations of hotel occupancy, staffing needs, room and venues readiness time, based on inventory and reservation data, as well as past-periods trends.
Fill out the form and receive the book by email
Error: Contact form not found.