PropTech Solutions in Commercial Real Estate
High-Converting Investments. Current situation in the sphere of the commercial real estate and PropTech market
The quantity of PropTech start-ups has grown by 300% in the last 10 years, with digitization efforts being directed towards tackling the major challenges in the industry. The ongoing tendency towards technology adoption in the real estate sector has been speeded up by the pandemic-driven changes, and at present, it is in full swing. Today, companies are aiming at introducing a healthy, sustainable and human-centric environment into their properties. In the given article, we are expanding on the current situation in the sphere of the commercial real estate and PropTech market. In addition, we are sharing PropTech investment insights and several examples of outstanding real estate technology start-ups that were able to attract substantial funding.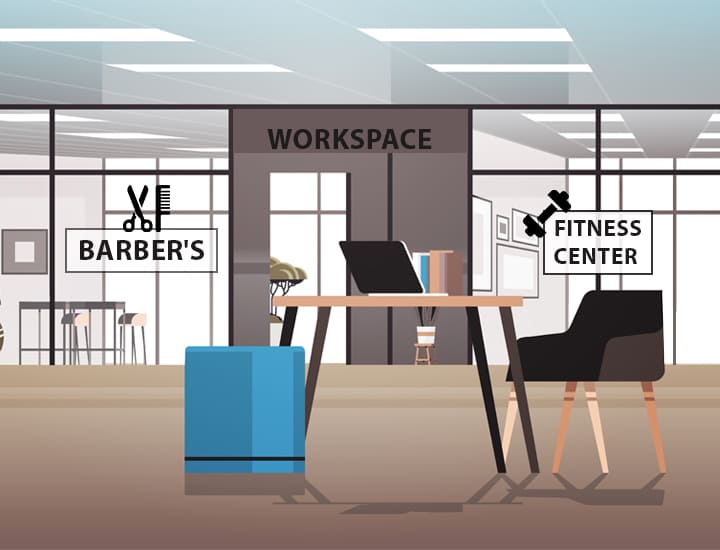 Hotelization of Commercial Real Estate
In recent years, the corporate real estate sector has witnessed a shift in its core services. Supplying work space for a long-term lease used to be a major profit-driver but that doesn't meet customer expectations in full scope anymore. With short-term renting gaining popularity, it is making way for a new concept of hotelization of commercial real estate that means incorporating hotel-like services and amenities into rented areas.
Hotelization trend is about comfort and convenience. The landlords try to create a cozy atmosphere for employees to feel relaxed in their work environment. They do so by adopting a lot of amenities that are typically found in a hotel and are aimed at enhancing tenant and customer experiences. Besides setting up lounges with beautiful furniture, they are introducing various facilities, like event spaces, an on-site gym/ fitness areas, a hair salon, a dining area, etc. Employing artificial intelligence in HVAC and offering charging systems for electric-vehicles also belong here.
The trend for hotelization has been brought about by several factors:
Millennials and Generation Z employees, which constitute a large portion of present-day workforce, value comfort and additional services. They favor short-term office rentals and tend to try out various office spaces.
Other customer segments are also gravitating towards flexible short-term leasing. To some extent, it is stipulated by an unstable business environment caused by coronavirus.
Wellness trend in office spaces with a focus on natural sunlight, green space, better air quality and energy efficiency. Experts say this is apparent across various property types, in particular, office and multifamily.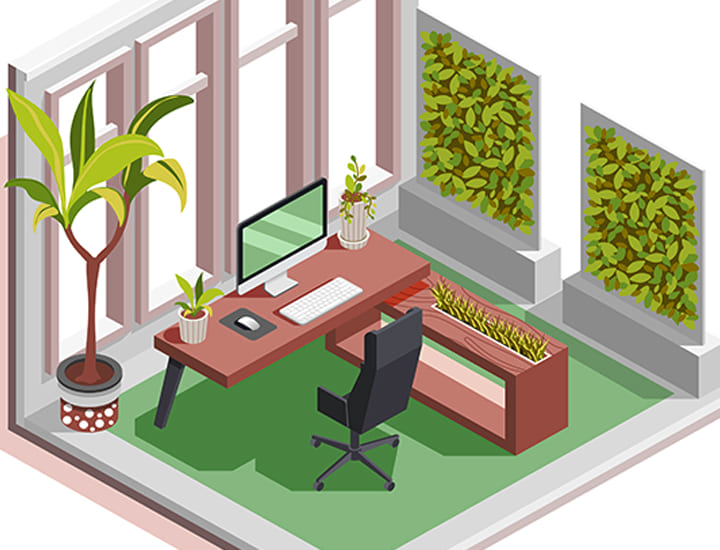 Sustainability Matters
A survey conducted by JLL found out that around 650 key real estate industry participants capitalize on designing green and human-centered spaces. 89% of respondents admitted that the sustainability aspect had become more imperative in their business strategy.
Buildings make a substantial contribution to global warming. Studies show that around 29% of all greenhouse gas (GHG) emissions, which are thought to be the main contributors to global warming, can be credited to properties. They require energy, resources and produce waste during the construction phase, years of operation, and even during disposal. This fact puts the concept of building efficiency on the same level of importance as office occupancy. Real estate investors believe capitalizing on sustainability can deliver value and a competitive advantage.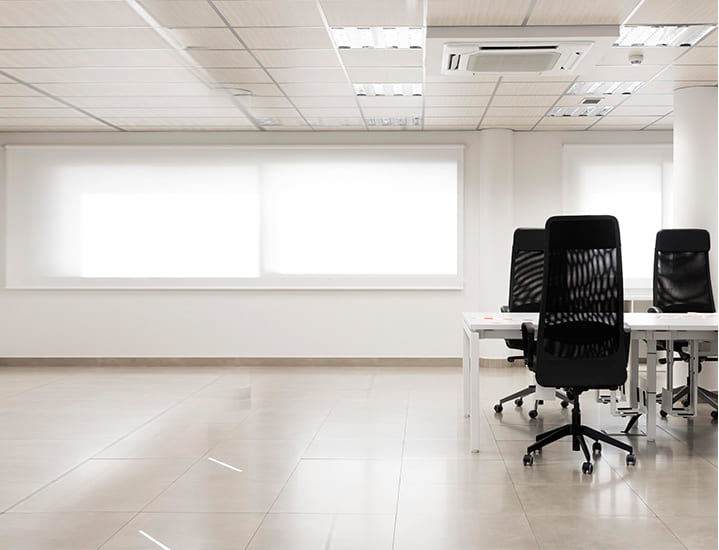 Wasted Office Space
Corporate real estate sector has been dealing with the issue of wasted office space since the pre-pandemic times. According to industry statistics, about 40-50% of the rented office areas stay unoccupied.
At the same time, with the vaccinations lowering coronavirus concerns, a large portion of employees have abandoned a work-from-home approach and returned to offices. According to the PricewaterhouseCoopers survey, 68% of company leaders believe that employees should be in the physical office at least three days a week to support an organizational culture. Keeping that in mind, companies are seeking ways (mostly technological) to make the use of rented areas efficient, cut costs by eliminating underutilized space while preserving enough capacity for the flexible needs of employees.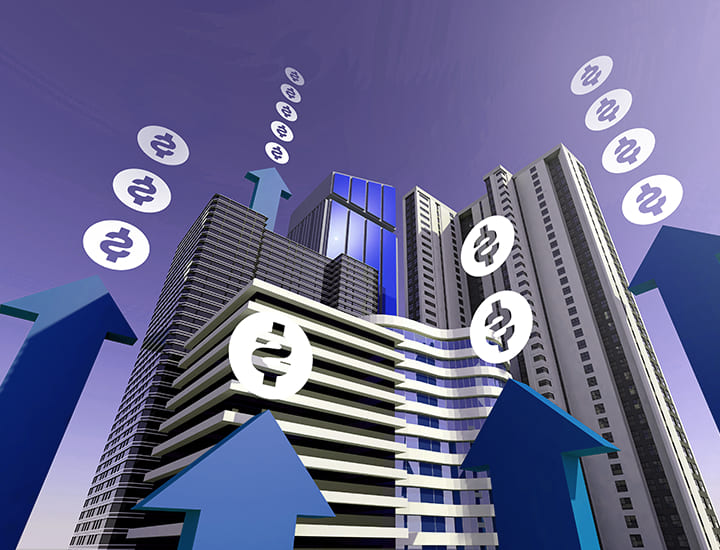 PropTech Start-ups are in the Spotlight of Investors' Attention
Even though the PropTech movement made its appearance before COVID-19, it really took off during the pandemic.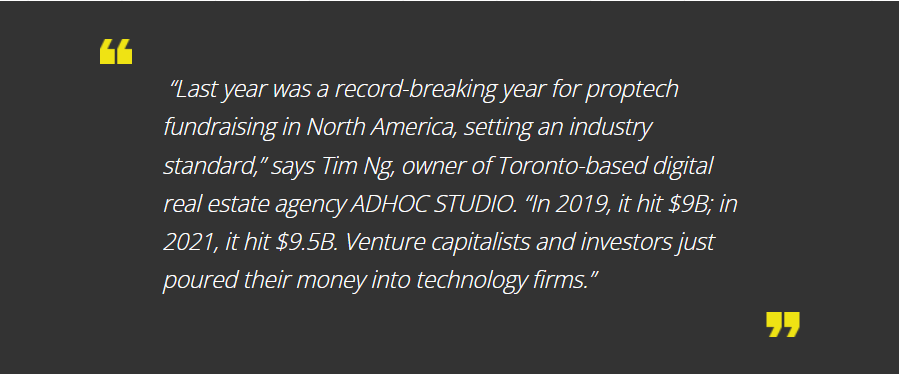 Now, virtually all industry spheres are being digitized, including commercial real estate, workspaces, residential real estate and construction.
Fintech Global breaks down last year's investment landscape in the following way:
Start-ups based in North America got the lion share (71%) of the capital raised with 181 transactions.
Europe was the second accounting for 19% of investment activity with 48 funding rounds. The major investment activity took place in the Western regions.
Asia appeared to be the slowest region in terms of funding with only 14 transactions completed.
Similarly to early venture capital investors in PropTech, many of them remain to be real estate industry participants. It's quite logical for them to pour money into PropTech because they have a deep understanding of the industry. Besides, a large number of investors choose to fund projects that promote the solutions they would like to directly use in their own businesses which makes proper understanding of the industry changes and undercurrents crucial.
As the industry keeps growing, PropTech is likely to attract people with no professional connection to the real estate industry.
Technology is an integral part of the trends shaping businesses in real estate. Hybrid work, sustainability, health and safety concepts are sought-after by customers, property owners and investors.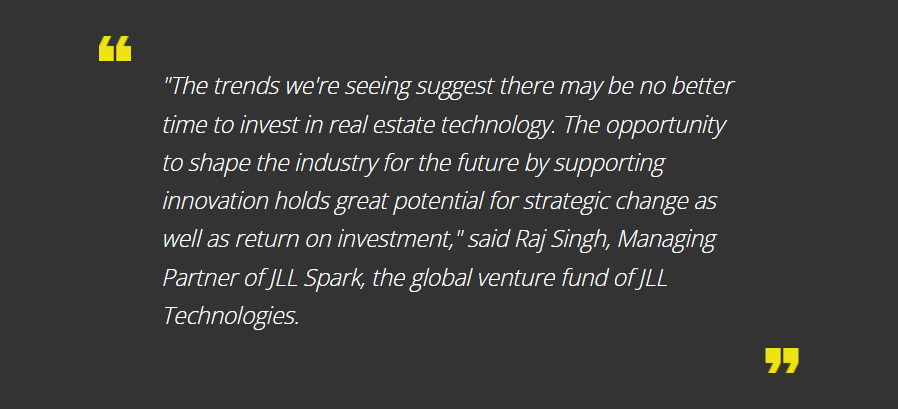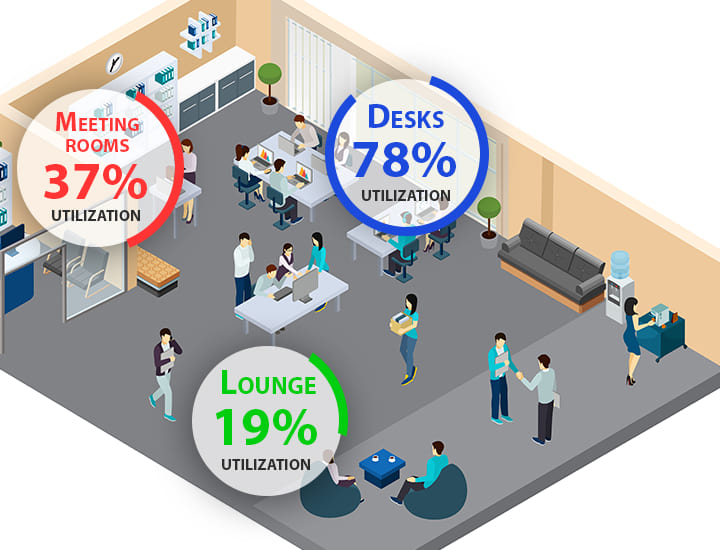 Space Management Start-Ups
The global workspace planning and management software market is projected to reach $1.37 bn during 2021-2025, progressing at a CAGR of over 14% during the forecast period.
Why is it progressing? The demand for such technology is increasing because it helps real estate companies automate space planning and reduce costs by utilizing a specific area in the most time- and cost-efficient way.
Let's have a closer look at two examples of successful PropTech start-ups of this type.
Basking.io is a Berlin-based start-up that offers solutions for workplace occupancy analytics that are based on artificial intelligence and WiFi. The company leverages technology and the data obtained from the wireless networks and occupancy sensors to analyze office traffic, give insight into how people interact with the spaces and make forecasts of the workplace attendance. Their technology connects to WiFi-enabled devices within the property and enables data transmission to Basking where it is analyzed and interpreted.
The digital platform has the following advantages:
visualizing office space utilization;
floor-by-floor heat mapping with different area types;
comparison of floors, areas, teams and locations in order to identify trends and optimization possibilities;
attendance monitoring in real time;
ensuring social distancing and safety compliance;
comparing metrics to the industry benchmarks;
managing real estate ESG data.
We couldn't but mention VergeSense, one of the leaders in the spatial intelligence sector. Founded in 2017 in San Francisco, the company has attracted a total funding of $82.6 million. The start-up has created an AI-driven analytical platform that utilizes intelligent sensors detecting the presence of people in the office to give an insight into how space is used in real time.
Additional functions comprise space demand and supply analysis, historical playback, environmental monitoring, real time heat maps, utilization analysis, and room/desk booking.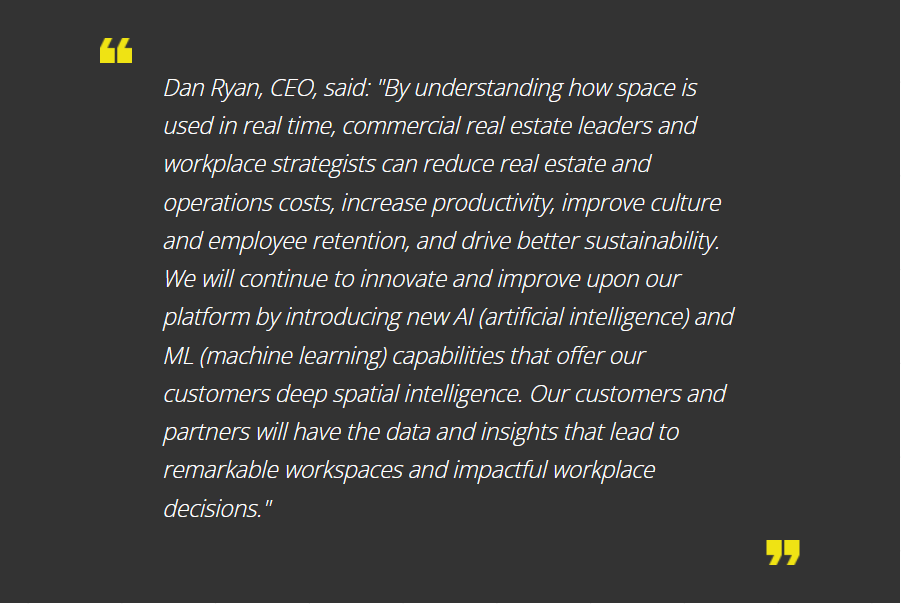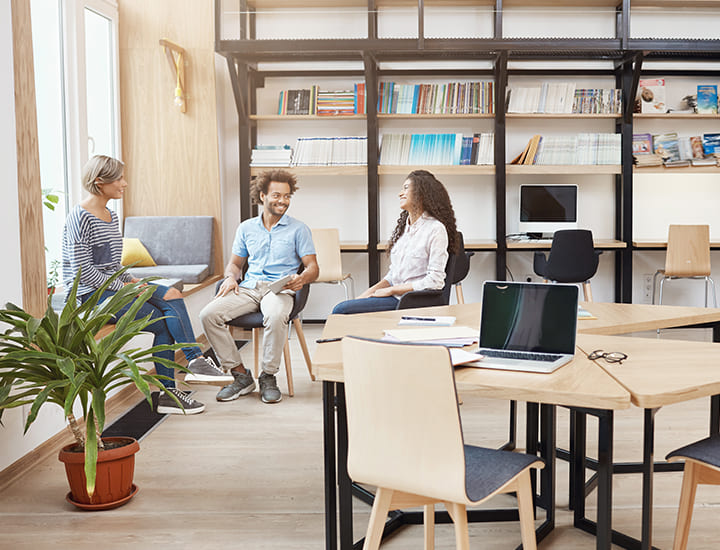 Workspace and Coworking Start-Ups
Coworking properties have been sprouting up like mushrooms. That doesn't surprise anybody, as they ideally tap into the needs of freelancers and young businesses that are not yet able or willing to splurge on their own office. However, coworking spaces are also becoming increasingly demanded among more established companies looking for enhanced flexibility.
Today, there are over 32,000 coworking offices across the globe and this number is projected to exceed 40,000 by 2024, doubling a 2019 number of 19,000 (according to the Allwork Space report). The number of coworking spaces worldwide has grown an average of 15% YoY since 2013. The number of coworkers globally was over 3 million people in 2019, and it's projected to double up to 6 million workers by 2022.
Moreover, over 70% of coworking spaces start yielding return on investment after 2 years of operation, as stated by the DeskMag report.
Taking into account everything stated above, a workspace and coworking tech startup is a good market fit with the hefty potential to attract venture capital.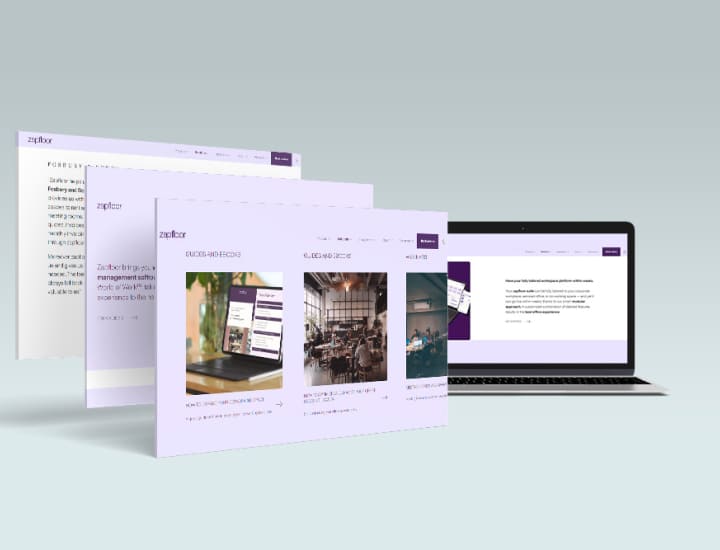 Antwerp-based start-up ZapFloorHQ raised €1 million to revolutionize office management practices across the globe. The funding came from the LeanSquare investment fund and Stefan Grosjean.
The company's digital platform serves coworking spaces and multi-user office buildings. It enables office operators to manage administration of office buildings and engage with their tenants who can also access the web service.
Users resort to the platform to book a meeting room, report issues to the building manager or simply communicate with fellow members of the coworking community. Granted the uniqueness of every coworking space, ZapfloorHQ's software allows each company community to craft its own platform, taking into account their custom preferences. Moreover, it is easily integrated with the company's hardware and software.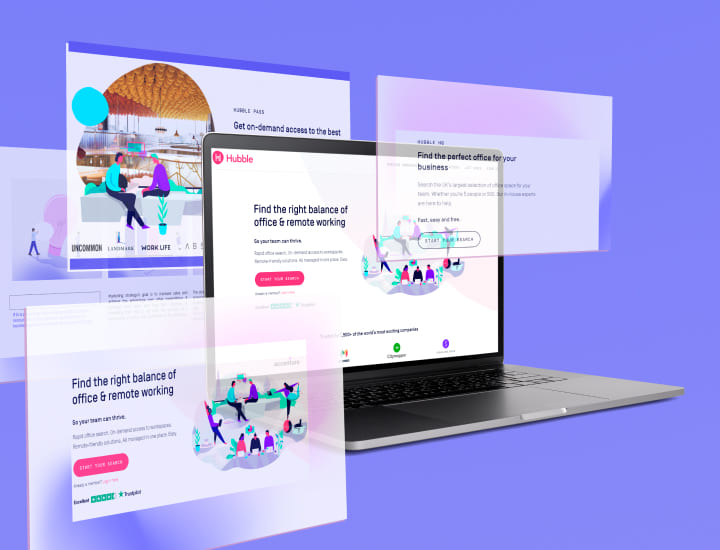 Hubble, a UK-based real estate start-up, is focused on hybrid working. Since its foundation in 2014, the company has attracted £10m from some of the leading players in property and venture capital, including JLL, Starwood Capital, Seedcamp and Entrepreneur First.
The mission of Hubble is to improve the working lives of one million people by 2025. Their powerful office search web platform is intended to configure, deliver and manage all of the customer workspace needs in one place. This solution caters to all types of business, including the ones looking for an office, HQ, coworking space, work from home opportunities or on-demand options. Besides, the company takes into account the needs of more flexible teams that are on the go. It provides on-demand access to hundreds of amazing hand-picked coworking spaces, private day offices and meeting rooms around the world, in one all-access membership and a pay-per-use approach.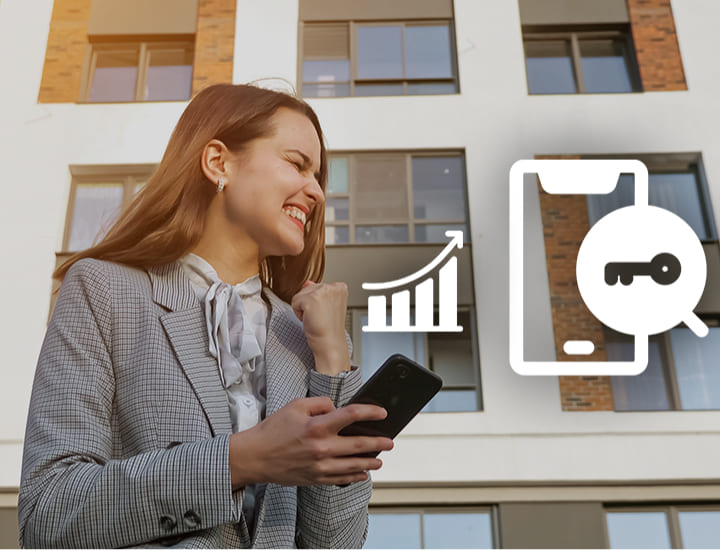 Service Management Automation Start-Ups
According to Grand View Research, the global property management software market size was valued at USD 3.04 billion in 2021. The experts predict its compound annual growth rate (CAGR) of 5.6% in the period from 2022 to 2030. The demand for Property Management Software (PMS) is projected to soar as well. This means that starting PropTech companies operating in property management and service automation is more than viable. SaaS-enabled PMS assists in managing daily operations, like tenant and lease tracking, building maintenance, accounting, etc. It is one centralized platform to monitor and manage all the properties together with addressing the needs of tenants.
With total funding of $14.9 million, Lane is the internationally recognised leading workplace experience platform.
The mission of the start-up is to "transform brick-and-mortar offices into thriving, connected ecosystems". To do so, they developed a no-code platform for workplace providers that is highly flexible and easily scalable. It is able to streamline everyday office routine – room bookings, access management, communication solutions, data analytics and business intelligence, event management, etc. Lane made sure that the solution meets the demands of each participant of the work process, including employees, asset managers, on-site building teams, retail tenants and others.
The platform bridges the gap between digital and physical environments. What's more, it combines all aspects of the workplace into a one seamless and intuitive interface.
Founded in 2014, Lane powers 300+ properties across 22 cities in 8 countries. It is trusted by many renowned companies, such as Brookfield Properties, Oxford, Colliers, Dream, Nuveen, Studio by Tishman Speyer and more.
Wrap-Up
This commercial real estate technology sector is currently flourishing and attracting substantial investment capital. In the article, we have singled out 3 PropTech start-up categories that address present-day issues and trends in the industry. The start-up companies mentioned offer cutting-edge solutions that help property operators to save both money and time as well as facilitate business growth.
Venture Capitalists place a heavy interest in ground-breaking PropTech solutions that possess a strong potential to yield financial returns, so today is about time to bring your start-up idea to life and revolutionize the real estate industry.
If you are looking for a reliable technology partner, development teams at BandaPixels are ready to invest their strong expertise and solid experience in your success. Our company has a proven record of creating cost-effective technology solutions for the real estate sector. Entrusting your project to us, you will enjoy a smooth execution together with superb customer service and reap the benefits of a full-fledged custom product.
Feel free to contact us and discuss the ways you can leverage the cooperation with us.
by Vlada Hladyr
We are here to help, around the clock, every day.
Related articles
Last articles
Fill out the form and receive the book by email
Error: Contact form not found.