How to Solve the Hotel Revenue Management Puzzle with Technology
Hotel revenue management is a critical parameter that empowers business owners to forecast demand to attain the best financial results
Hotel revenue management is a critical parameter of its operation that empowers business owners like you and your managers to forecast demand and optimize room turnover and pricing to attain the best possible financial results. But can you achieve all these goals manually? Highly unlikely.
It is a complicated and tedious task, therefore automation in revenue management is a must-have for any type of lodging business: from a small independent hotel to a resort or a chain hotel. Managers have to deal with immense volumes of data from multiple sources while working on the revenue management strategy. That's why automation should be part and parcel of this process.
In this article, we are expanding on the core elements of hotel revenue management and help you understand how technology can address the challenges faced.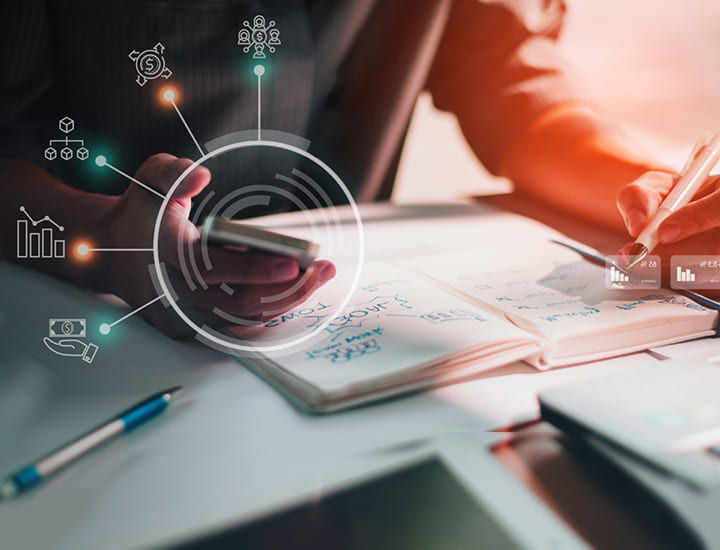 What Does Revenue Management Mean in the Hotel Industry?
In the hotel business, revenue management boils down to the following: selling the appropriate room to the right guest, at the right time, for the right price, via the right distribution channel, with the best cost efficiency.
Revenue management relies on analytics and performance data to boost the profit potential of a hotel. It is a key to predicting the customer behavior and defining the optimal pricing and distribution strategies.
The concept of revenue management is complex and comprises the following components:
inventory / distribution management;
These elements are part of a general strategy that affects the ultimate financial result of a hotel and serves as a basis for rates, policies, distribution and marketing activities.
Let's look at each of them in more detail.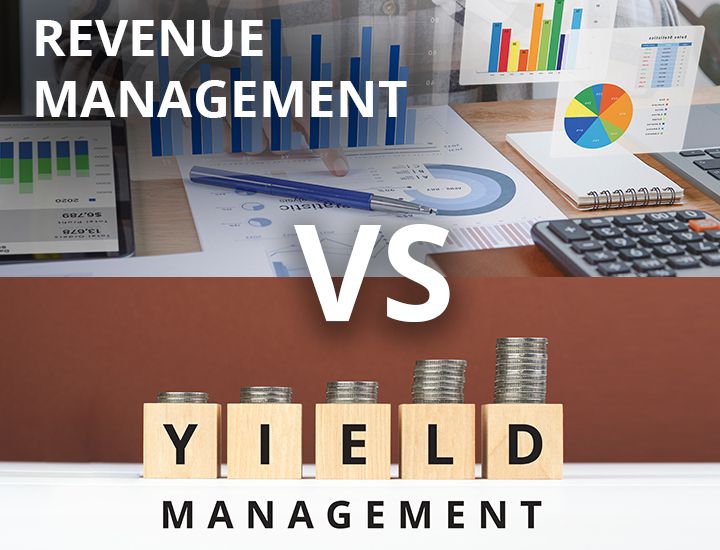 Yield management vs. revenue management
Revenue management goes side-by-side with the notion of yield management that stands for adjusting the hotel pricing strategy in order to attain the maximum of its room turnover. Yield management is focused solely on the room-generated revenue and comes down to selling the right room to the right customer at the highest price.
Revenue management is a broader concept, and it embraces not only room sales but also each guest's spendings on various add-ons and amenities, like upgrades, dining, food & beverage, packages and entertainment. Besides, it takes into account all revenue sources of a hotel, such as restaurant and bar sales, room service and various bookings.
Revenue management scheme also depends on external factors, for example, costs associated with distribution channels. Consequently, it heavily relies on accumulating various types of data and the subsequent analysis.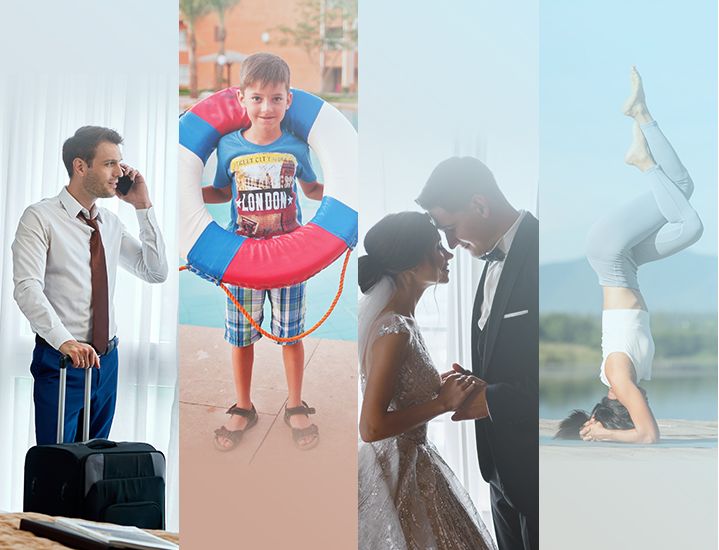 Customer segmentation
Customer segmentation is a valuable asset in pricing and marketing strategies, as it gives an opportunity to single out different categories of customers for a more precise targeting.
The most common criteria for customer segmentation are the following:
demographics (gender, age, marital status, etc.);
the purpose of the trip (business, vacation, sport/entertainment events, wedding, etc.);
guest status (new, returning, or regular);
booking channel (direct, through an OTA, etc.).
If done right, tailoring the offers to the needs of specific customer groups presents tremendous selling potential for hotels.
In addition, further investigation will help you identify meaningful trends in customer behavior that will come in useful in demand forecasting.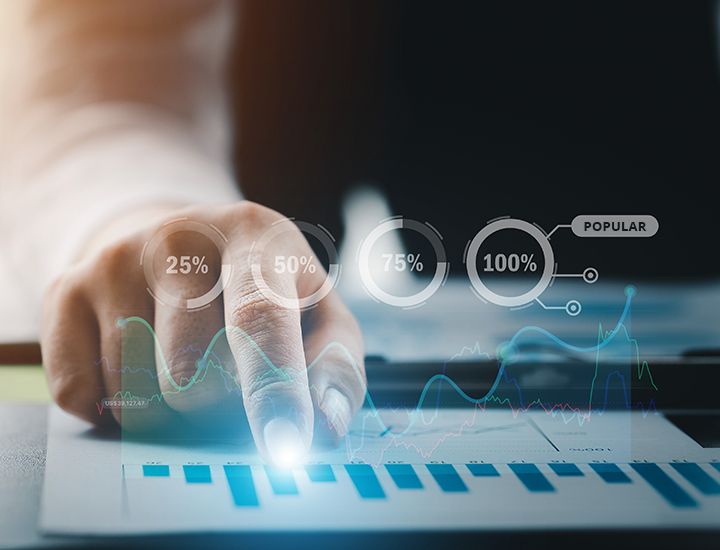 Demand forecasting
Customer demand is always dynamic. Its fluctuation is stipulated by various factors, like the season, events in the area, or even macroeconomic conditions. Demand forecasting is based on the analysis of data about past demand, current and future events and overall situation related to the customer segments. This part of revenue management is crucial because hotel management leverages the data to predict the periods of demand increase and decrease and work out the best pricing, marketing, and distribution strategies.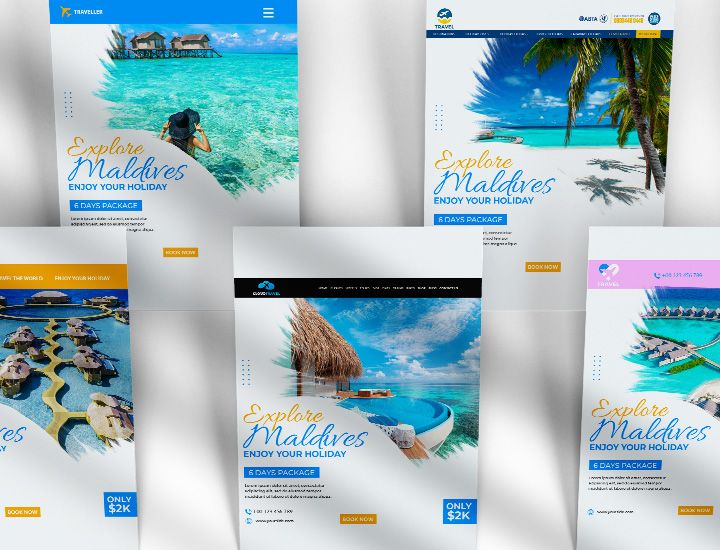 Inventory/distribution management
In revenue management, under the term inventory, we understand the product (i.e. rooms) sold. A room is regarded as a perishable product that means that if a hotel does not sell a room today, it can sell it later. And if a room is not sold within a specific period, a hotel loses part of its profit.
Another principal aspect of revenue management is figuring out the right combination of distribution channels. Generally, hotels rely on Global Distribution System (GDS), Online Travel Agencies (OTAs), bed banks and metasearch engines to receive bookings. The results of demand forecasting for specific customer segments and channels are essential for creating an efficient distribution strategy that will balance occupancy and revenue maximization.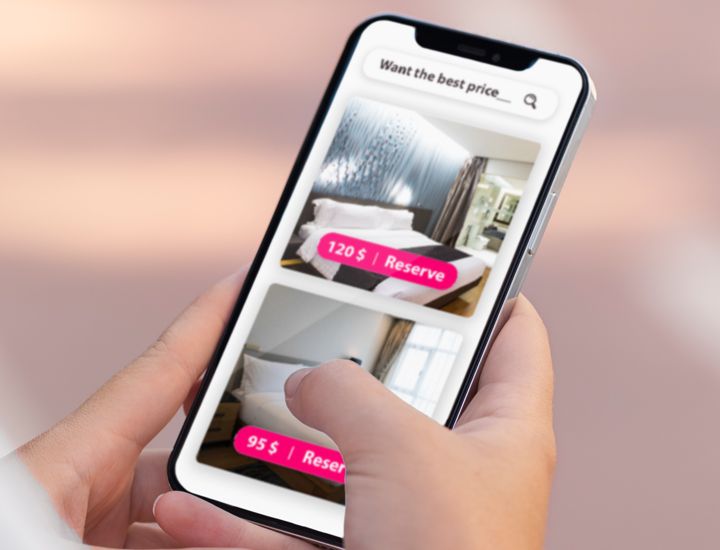 Pricing
Price is one of the leading factors determining the customer's choice regarding the hotel. So, setting optimal inventory/room rates is the most sure way to maximize the revenue. In order to identify the best price, you have to undertake a thorough analysis of the market to get to know your customer and get an insight into hospitality trends.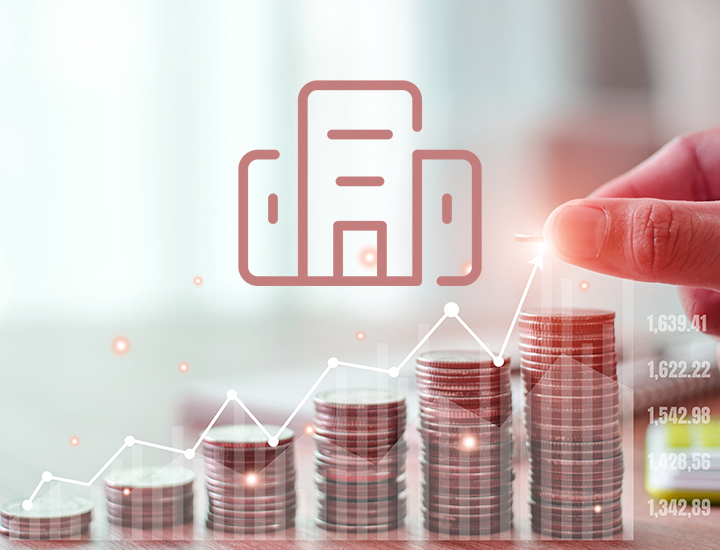 Why is Revenue Management Important?
Revenue management is a valuable asset in generating profit, as it gives the opportunity to maximize room turnover by making strategic decisions data-driven. Since the ultimate goal of each hotel is to be profitable, they have to make sure that all the costs are covered and profit received, even if they don't sell all their rooms.
As the hotels employ a fixed costs approach, achieving that is possible by accurately pricing their services to allow them to make money.
Further reasons why revenue management is crucial:
stimulates growth by using data to forecast industry trends and drive profit by introducing new services;
builds up the efficiency of the hotel;
refines demand projection;
facilitates identifying the optimal balance of staff;
boosts the competitive edge of a hotel.
Revenue management is an integral element of hotel management. It is a powerful tool for defining the right services and amenities that heavily contributes to the overall profitability.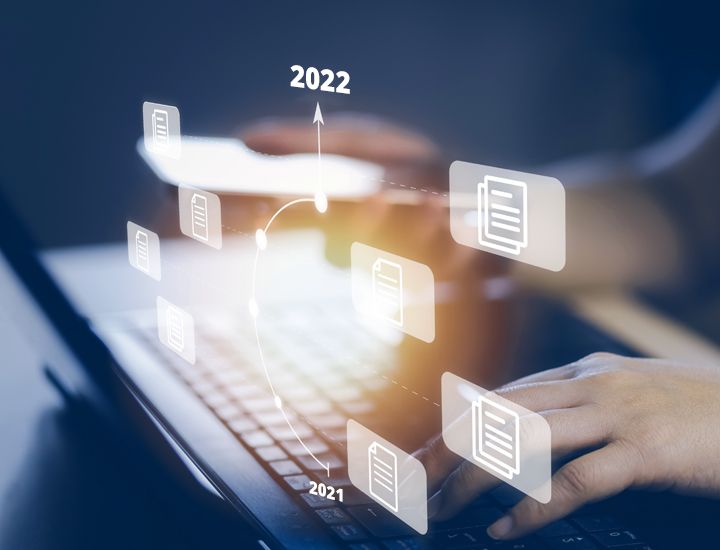 Key Metrics the Hotels should Watch
The hospitality industry is characterized by data abundance, and understanding what kinds of metrics reflect the business performance in the most accurate way is a key to success.
Let's have a look at the most critical metrics for the hotels to consider.

Total available rooms is used to identify the overall hotel capacity. It shows the amount of rooms in service within a certain period.
This metric is crucial, as it determines the booking potential of a hotel and serves as a basis for essential financial calculations.

Average daily rate (ADR) shows the average price the customer pays for a room, including the ancillary bills.
The metric demonstrates the financial performance of the venue and can be then compared to the competitors' data.

Revenue per available room (RevPar) indicates the average daily revenue for the room, excluding the ancillary bills.
The hoteliers use it as a criterion for measuring the occupancy rate as well as room rates.

Average occupancy rate is a percentage of occupied rooms within a certain time frame.

Gross operating profit per available room (GOP PAR) shows profit received from a room, taking into account all revenue sources.

Average rate Index (ARI) compares the daily rate of a specific hotel to its competitors. It is crucial for setting up a correct pricing policy.

Revenue generation index (RGI) or RevPar yield index compares a hotel's RevPar to a set of competitors.
The index figure is closely tied to hotel profitability.
As we can see, the metrics are based on large quantities of data coming from diverse sources, and organizing and analyzing it usually presents quite a challenge for companies. Hoteliers can address this problem by migrating to the cloud and introducing technology solutions for revenue management. Storing data on a cloud provides easy access, increased levels of security, automation and analysis of the metrics you need to make the right decisions quickly.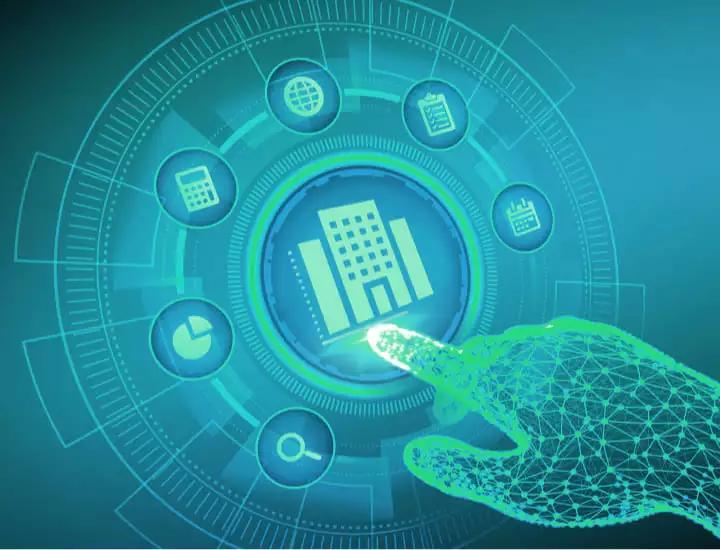 What is a Revenue Management System?
Adopting a digital solution for revenue management is beneficial for every type of hotel. It is a weight off the hoteliers' shoulders, as it resolves the issue of complicated calculations and tracking of market data in real time. RMS enables quick and smooth execution of the tasks associated with data processing and analytics. It empowers the hoteliers to make informed financial decisions and improves key performance indicators.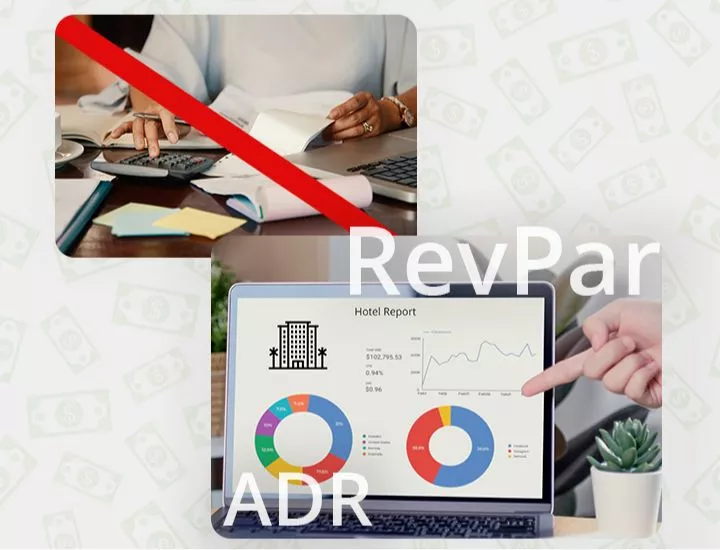 What are the most important functions and benefits of a revenue management system?
A revenue management system comprises a big range of features and functions to take advantage of. With that being said, the following are the most important features:
1. Rate Recommendations
The principal functionality of RMS is aimed at calculating perfect room rates/prices, using pre-programmed logic/algorithm, performance data from previous periods, current market data, etc. The prices across distribution channels can be easily modified from the main dashboard.
2. Competitor Information
RMS tool gives an opportunity to view room rates of a pre-selected list of hotels without leaving the dashboard. This feature is convenient and practical, as it allows hoteliers to monitor competitors' prices in order to work out a more strategic approach to your own pricing.
3. Key Performance Data
The solution calculates and stores essential performance data, including such metrics as occupancy rates, revenue per available room (RevPAR) and average daily rates (ADR). It can display performance data from various periods, like the previous month, the same date last year, etc.
4. Revenue Estimations
Finally, RMS supplies revenue and profit estimates when applying various pricing strategies and allows you to choose the most rewarding one.
Entrusting your revenue management to technology allows you to:
organize your past, current and future statistics into accurate reports;
assist your revenue management team with comprehensive demand forecasting for more efficient decision-making;
free your personnel up for other tasks;
eliminate errors in pricing;
get access to crucial data – industry trends, booking behavior, etc.;
study your competitors, get the grasp of the market;
spare time to entirely focus on guests.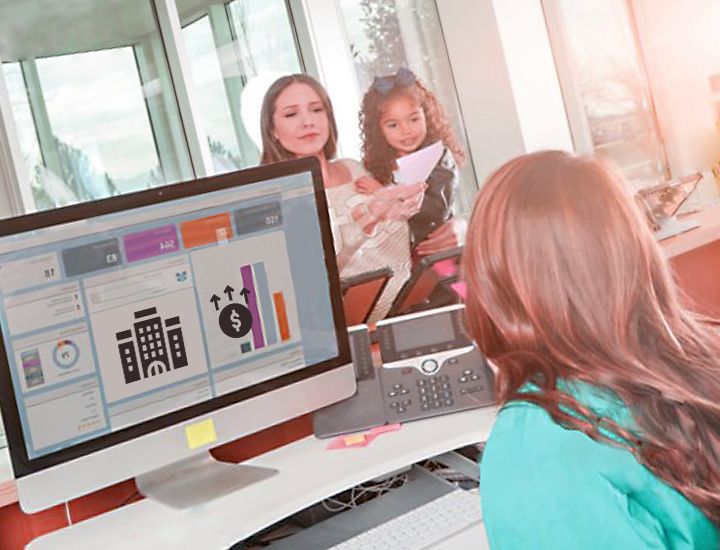 How to Leverage Technology for your Revenue Growth
Technology gives hoteliers robust opportunities for data gathering and gaining insight into customer behavior and preferences.
RMS, PMS and channel manager integration allows hoteliers to perform impeccable customer segmentation. This is achieved by:
Catching booking details: things like purpose and duration of stay, room type, upgrades and add-ons purchased uncover vital information about customers that can be further used to create custom/personalized offers for cross-selling purposes.
Creating booking reports: this feature is useful in establishing reservation trends that will help you get a more profound understanding of guest booking patterns and filter out ineffective distribution channels.
Guest profiles: AI algorithms are powerful tools for building, storing and analyzing guest profiles. This feature helps establish repeat guests and explore their stay history in order to create efficient loyalty schemes and sell additional services.
In order to raise total revenue per available guest (TRevPAG), it is not enough to identify what to offer. The venues should engage their guests in ordering activity as much as possible. This can be done in the following ways:
Promoting communication:
Pre-arrival emails are a good way to sell additional services and packages, especially if they correspond to the customer's lifestyle and interests.
Push notifications also bring in additional revenue. Leveraging customer segmentation function, the venues can create location-specific offers with the hefty potential to generate sales.
AI chat bot is capable of answering the majority of customer's questions and providing relevant suggestions as for services, packages and activities.
Messaging solution combines all communication from instant messengers and social networks into one hub. That tremendously eases the work of hotel staff, enabling them to deal with customers efficiently and promote add-ons and amenities through conversing.
Making ordering effortless and seamless:
Direct booking engine. Besides its primary function of booking a room, the booking system of a hotel web service can be used to advertise ancillary services.
AI-powered virtual concierge is an easy-to-use ordering tool. The industry statistics show that 77% of guests wish to request room service and book various offers with their mobile.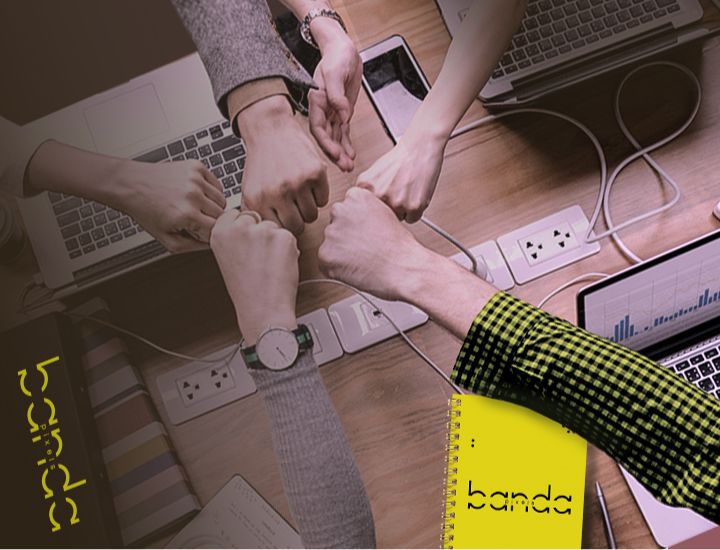 How can BandaPixels Help you Streamline Data Processing in your Business?
Banda Pixels is a RND company that helps clients maximize their achievements by delivering next-generation technology solutions tailored to their mission-critical needs. Our highly competitive pricing policy allows our partners to get fast returns on their investments in IT.
Our highly trained teams invest their solid experience, strong IT expertise, deep industry sector knowledge, and ongoing non-stop technology research in the customers' progress by crafting top-grade digital products in diverse technology stacks and nearly all business domains.
The portfolio of the company includes a lot of successfully fulfilled projects in the hotel industry.
We are skilled at developing cost-effective technology solutions of different complexity levels that solve the hoteliers' issues by automation and artificial intelligence.
Don't hesitate to contact us and discuss how to overcome your challenges with technology.
by Vlada Hladyr
We are here to help, around the clock, every day.
Related articles
Last articles
Fill out the form and receive the book by email
Error: Contact form not found.