Ground-Breaking PropTech Start-Ups
Inspiring Success Stories. We have shortlisted several PropTech start-ups that managed to grow and attract investments
Given a rather unstable situation on the real estate market, caused by on and off lockdowns and travel restrictions, it might seem quite reasonable to put your pioneering business idea on hold for the time being. On the other hand, a large number of startup companies have been able to enjoy commercial success even amid the pandemic crisis.
What is a Start-up?
A start-up is a type of business aimed at generating income by implementing a fundamentally new idea.
The term start-up gained its popularity during the Dot-com bubble, when a large number of Internet companies were created; they used the latest technologies to provide a brand-new type of services. New projects in high-tech industries are often referred to as high-tech start-ups.
The concept of a start-up is applied to new businesses in all sectors of the economy. In IT, start-ups are new companies that are just emerging or are planned to be created. They are not tied to aggressive marketing and PR methods aimed at promoting the company quickly. They can remain in the creation phase for a long time and have a long marketing period (for example, development of a product can take two years and only after that the business enters the market and starts the promotion campaign).
Impact of Covid-19 on the Global Economy
In 2021, the global economy gradually recovered from the economic crisis caused by the coronavirus pandemic. According to the forecast of the Center for Economic and Business Research, in 2022, global GDP will exceed $100 trillion for the first time. However, due to high inflation, there is still a risk of a return to recession. In addition, the epidemiological situation on the planet will remain extremely unpredictable for a very long time.
Under these conditions, the launch of a new start-up might sound like madness. However, this is actually the most appropriate time to invest in new businesses and create new business models. The pandemic is radically changing human habits and the very structure of the economy. The entrepreneurs able to adapt to the changes first will gain a huge advantage over their competitors.
The transition from paper to digital document management is a trend, thanks to which a business gets rid of routine, long approvals and unnecessary costs. It can be even more beneficial for the construction sphere. Making changes to the drawings, evaluating the readiness of the project, calculating the savings – all these are quite labor-intensive, yet necessary actions, which usually take a lot of time. Digitizing these processes considerably streamlines operation, as any task can be solved quickly and right on the spot.
It is no coincidence that start-ups offering digital document management solutions are consistently in demand.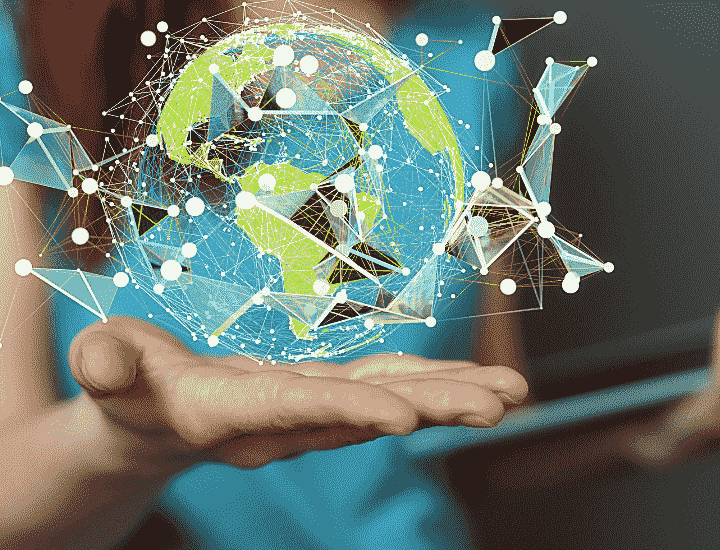 A Digital Assistant
One such example is PlanGrid based in San Francisco. The company was founded in 2011. It develops software that significantly simplifies work with drawings and various documents. It allows the users to store all their files in the cloud and have shared access to them. If any changes are made, everybody can see them immediately.
In 2021, the company introduced a new project management tool – Autodesk Build. This is a full-fledged software designed to work "in the fields". It enables tracking progress, controlling the schedule, making quick changes, reducing costs, increasing site security and getting full offline access to information, viewing 3D models and quickly finding the necessary documents, completing all reports, saving and adding tags to photographs.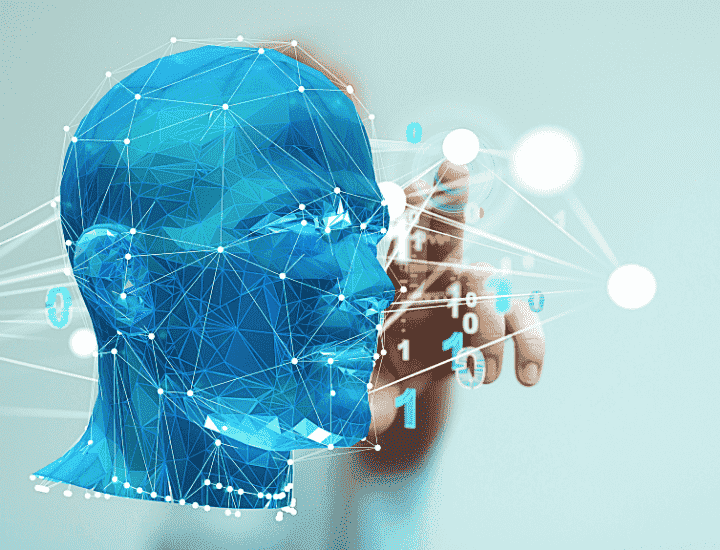 A Digital Platform for Real Estate Project Management
The 'most mature' of these start-ups is Procore that is based in Carpinteria. Since its foundation in 2003, it has raised $650 million in investment, with $150 million received in 2020. Covering all stages of construction, the tool simplifies organizational, financial, labor and analytical aspects of work.
The digital solution provides information on costs, manages rates, helps to make data-driven decisions, grants access to the BIM model, integrates office and construction site, controls costs, issues invoices, maintains accounting records, monitors performance, prepares high-quality analytics – identifies risks and all kinds of shortcomings, allows companies to create their own training centers.
In our opinion, the idea of ​​storing drawings and documents in the cloud is quite beneficial. It allows the users to see changes immediately and take them into account in further operational processes. A single click gives access to additional information that a sheet of paper will fail to provide. Digitalisation is a trend that eventually will come to all construction companies.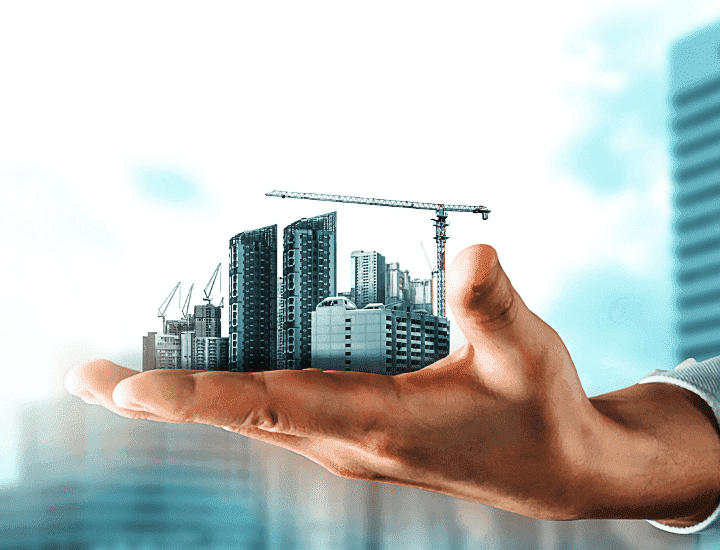 Sensor-Enabled Business
At present, a lot of PropTech start-ups in real estate base their digital products on the Internet of Things (IoT) technology that uses the readings of sensors, such as various cameras, door locks with built-in video recording and remote control function to make the rental of residential and commercial real estate safe and reliable.
Locatee is a successfully operating start-up in Switzerland. It collects and processes data gathered through sensors and other sources, such as Wi-Fi networks, inventory systems, websites. Its digital products help property owners maximize the use of space and reduce the cost of maintaining their properties.
The main advantage of such a business model is that it does not require the use of expensive equipment. Moreover, Locatee itself is cloud-based, so property owners don't have to spend time and money on installing and maintaining the service. The start-up is popular on the market. In February 2021, the company opened its subsidiary in New York, and in September, it attracted 7.1 million euros in investments.
The use of sensors is relevant to all areas of business. For example, car-sharing services leverage them to monitor the speed of the driver. If non-compliance with the rules happens for the first time, the driver gets away with the warning. In case of a repeated violation, the access to the service is restricted. Some insurance companies practice tracking people's activity with the help of bracelets, while kicksharing services monitor the geolocation of electric scooters.
In fact, there are numerous examples. But one conclusion seems to be obvious – soon the sensors will "entangle" everything and everyone. Any decisions regarding the choice of something will be made automatically, based on the data received. This is particularly true in the real estate sector.
Investment in residential projects is a fairly popular tool to make money. At the same time, renting out apartments is an unpredictable venture. What if after "short-term" guests, the renovation will have to be done every month? There are a bunch of other pros and cons that affect the investors' decisions.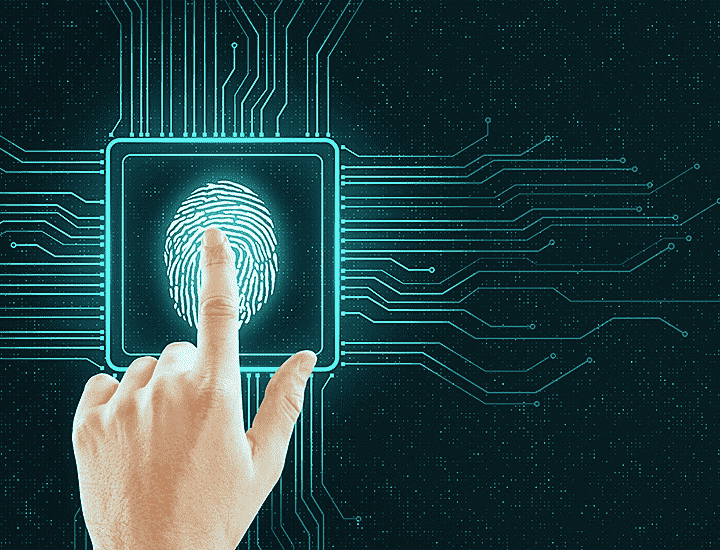 Anti-Noise Technology Based on IoT
Recently, owners have got the opportunity to monitor the noise level in apartments remotely. It is not about total control, rather about maintaining good relationships with neighbors. At first sight, the financial feasibility of such a service seems to be highly unlikely. But that is not the case: in April 2021, an $8 million investment was attracted by NoiseAware, a start-up from Dallas, that provides such a service.
The company secures homes and saves customers money. The service offered is pretty straightforward: if it gets too loud in the apartment, the landlord and tenants receive a warning message. As a rule, the method works in 80% of cases. Tenants cease making noise, and the owners stop worrying about their property.
As noise monitoring takes place 24/7, landlords have the opportunity to prevent costly damage. Besides, the service is easy to use, and the most important benefit is the guarantee of good relationships with neighbors. The cost of the solution (monitoring with indoor and outdoor sensors) for a single family home is $300 per year, for an apartment or condominium (monitoring with an indoor sensor) is $200 per year.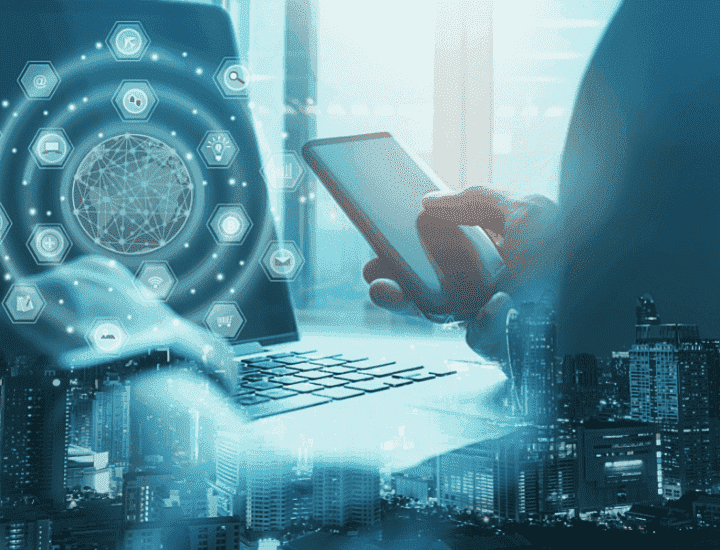 PropTech Start-up for Construction Management
Austrian start-up PlanRadar has raised nearly $70 million in funding from Insight Partners, Quadrille Capital and other investors.
PlanRadar is a digital platform for construction project management. The start-up allows its users to control all stages of construction, increases labor productivity, simplifies work with documents, automates actions with drawings and BIM models, makes it possible to fix various defects and leave comments (both text and voice ones). With it, you can optimize any real estate transaction and transform the company's business model with the help of data.
According to TechCrunch, PlanRadar plans to open new subsidiaries in the United States, Australia, Arab states of the Persian Gulf, Southeast Asia and Latin America in the near future. In addition, it intends to increase investment in research and development with the funds raised and expects to double the number of employees in 2022.
The start-up was founded in Vienna in 2013. Since then, the company has increased revenue by more than 250% and has grown its customer base to 14,500 people in 60+ countries. In 2020, PlanRadar received an investment of 30 million euros. Since then, the company has entered 10 new markets in Europe and Russia (one of the offices is in Moscow).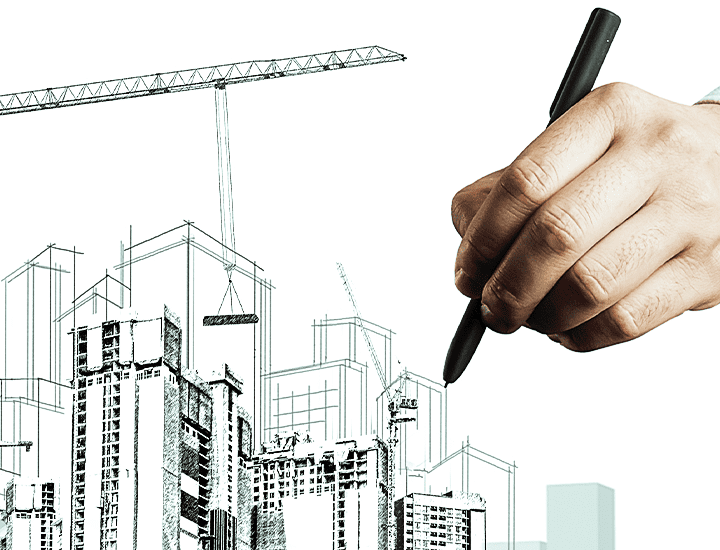 Innovation in Buying and Selling Homes
Orchard, a New York-based real estate start-up, announces raising $100 million in a Series D business funding round to accelerate business growth and market expansion. With new investments, the startup company has reached a unicorn status as its market valuation has exceeded $1 billion.
After an astonishing 200% growth of the business during last year, the received funding will enable Orchard to maintain strong growth and further investments in innovation. The company plans to enter four new markets in 2022 and introduce new business services enabling customers to leverage an easy and convenient way to buy a home.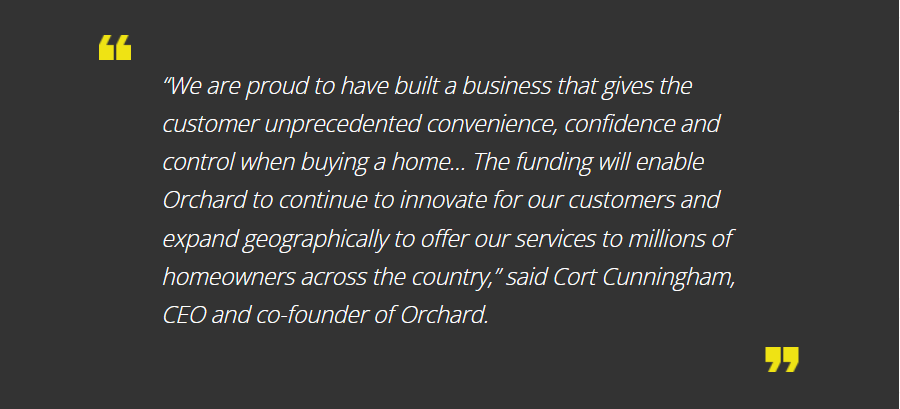 Fouded in 2017, the start-up aims to transform and simplify the process of buying and selling homes. At present, the company has over 500 employees in the United States and has helped clients buy and sell real estate worth billions of dollars in total.
Over the past 12 months, Orchard has introduced Orchard Insurance and a new Concierge service that repairs and renovates homes before selling them without prepayment. During this period, the start-up has doubled its workforce as well as operational geography.
The real estate start-up has come up with a "buy before you sell" model by offering clients a Move First service. It allows customers to move into a new home prior to having their old home sold by Orchard. The home search platform of the company is integrated with other services, such as Orchard Home Loans, Orchard Title and Orchard Insurance. This combination has revolutionized the buying and selling of homes.
Orchard's search solutions stand out from other real estate search tools because they allow filtering by the rooms that matter most to the customers. The start-up is also using machine learning to offer personalized ads to shoppers.
Engaging investments is not the only growth strategy employed by the company. Christa Quarles, CEO of Corelli, is expected to join Orchard's board of directors this October. Quarles used to hold a position of the CEO of OpenTable and has over twenty years of experience, developing and advising companies across a variety of sectors; some of these include consumer internet, fintech and market-based business models.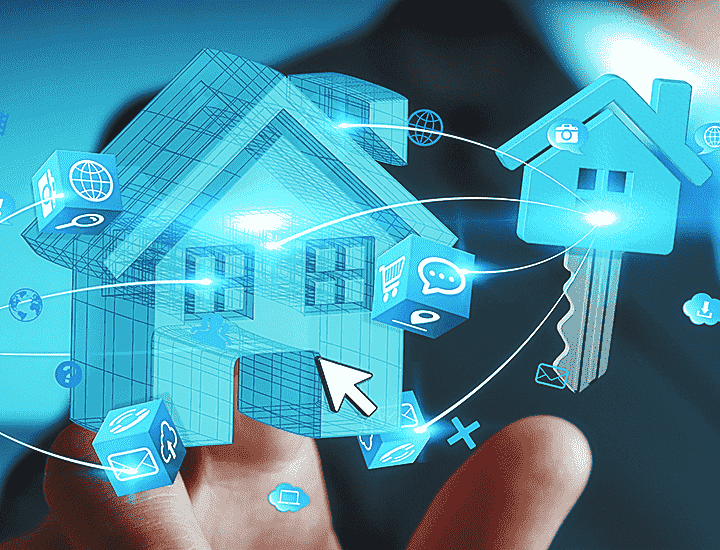 How Can BandaPixels Contribute to the Development of your Start-up?
The team of professionals at BandaPixels is always ready to support your startup project and help you solve any issues related to the development or digital modernization of your product. The company has a proven record of delivering cost-effective technology solutions of different complexity levels. Visit the Projects section of our website to explore examples of full-fledged web services developed by our team for several industries, including real estate businesses. If you need any further information, we are happy to give you more insight. Feel free to get in touch with us through the contact form above or any other way.
We are here to help, around the clock, every day.
Related articles
Last articles
Fill out the form and receive the book by email
Error: Contact form not found.