A Bookcrossing and Book Review Application
About project
Introducing Books Beyond Shelves, an innovative desktop application designed to revolutionize the way people engage in bookcrossing. The primary goal of Books Beyond Shelves is to provide users with a seamless and convenient platform for finding and sharing books with their community. By harnessing the power of technology, Books Beyond Shelves empowers users to access their favorite reads without the financial burden of purchasing new books and enables them to make more efficient use of their living spaces.
Books Beyond Shelves is a desktop application that revolutionizes bookcrossing by providing a user-friendly platform for sharing and accessing books. It addresses the high cost of books and limited living space by allowing users to easily find specific books through a simple search by author or title. The app also includes book reviews and ratings, empowering users to make informed choices about their reading selections. Bookshelf aims to make bookcrossing more accessible, cost-effective, and efficient, fostering a thriving community of book lovers.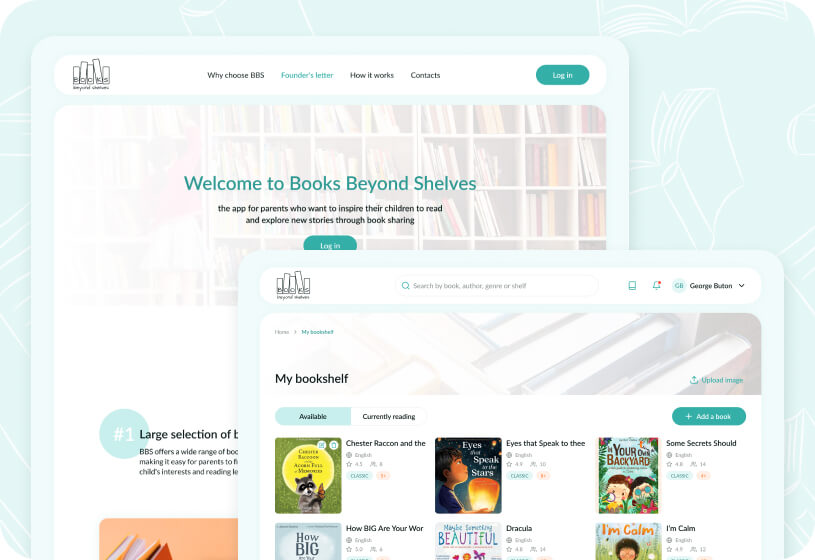 Main goals of the project
User-Friendly Interface:
The primary goal of the desktop application is to provide a user-friendly and intuitive interface that allows users to navigate and utilize the app effortlessly. Clear and concise design elements ensure a smooth and enjoyable user experience.
Seamless Book Search and Discovery:
The application aims to facilitate easy book search and discovery by implementing efficient search functionalities. Users are able to find specific books quickly, using filters such as author name, book title, genres, or keywords.
Efficient Bookcrossing Management:
The application streamlines the bookcrossing process, enabling users to lend or borrow books within their community easily. Clear book tracking, status updates, and notifications enhance the book-sharing experience.
Secure User Profiles:
A major goal of the application is to ensure the security and privacy of user profiles. Robust authentication measures and data encryption protect user information, fostering trust within the Books Beyond Shelves community.
Comprehensive Book Reviews and Ratings:
To assist users in making well-informed decisions about their reading choices, the desktop application presents comprehensive book reviews and ratings from previous readers. This feature encourages thoughtful book recommendations and fosters a sense of community engagement.
Digital Library Integration:
The application's goal is to offer seamless integration with digital libraries, allowing users to shorten their time to add books to the platform with the help of live search for the books' detailed information they are about to add to their bookshelves.
Personalized Recommendations:
Books Beyond Shelves incorporates algorithms to provide personalized book recommendations based on user preferences, reading history, and ratings. Customized suggestions encourage users to explore new genres and authors.
Cross-Platform Compatibility:
The goal is to ensure that the desktop application is compatible with multiple operating systems, such as Windows, macOS, and Linux, maximizing its accessibility to a broader user base.
Reliable Synchronization:
The application maintains reliable synchronization between the desktop version and other platforms, such as mobile devices or web browsers, ensuring seamless continuity of user activities and data.
Project workflow
UI/UX Design
Back-end Development
Front-end Development
Challenges and solutions
User Experience Optimization: The client needed an intuitive and seamless user experience that caters to various user preferences and devices.
Extensive user testing and gathered feedback to refine the user interface and user experience. Prioritize usability and accessibility, ensuring that the application is user-friendly across different devices and platforms.
Data Security and Privacy:
Ensuring the security and privacy of user data, including personal information and reading preferences, is a critical challenge for the project. Any data breaches or privacy issues could severely impact user trust and app adoption.
Implement robust security measures, including data encryption, secure authentication protocols, and regular security audits. Adhere to industry best practices and comply with relevant data protection regulations to safeguard user data.
Scalability:
As the user base grows, the application may face scalability challenges, such as slow response times or system crashes during peak usage periods.
Employ a scalable architecture and leverage cloud services to handle increasing user demands.
Regularly monitor server performance and conduct load testing to identify potential bottlenecks and optimize the application's scalability.
Integration with Digital Libraries:
Integrating with various digital libraries to provide a wide range of books might be challenging due to differences in API formats and access requirements.
Establish partnerships with reputable digital library providers and use standardized APIs to facilitate smooth integration.
Create a flexible integration framework that can adapt to changes in digital library APIs.
Book Data Management:
Managing a vast database of book information, including metadata, cover images, and reviews, can be complex and time-consuming.
Utilize automated data extraction and categorization tools to streamline the process of populating the book database.
Regularly update and maintain the database to ensure accuracy and relevance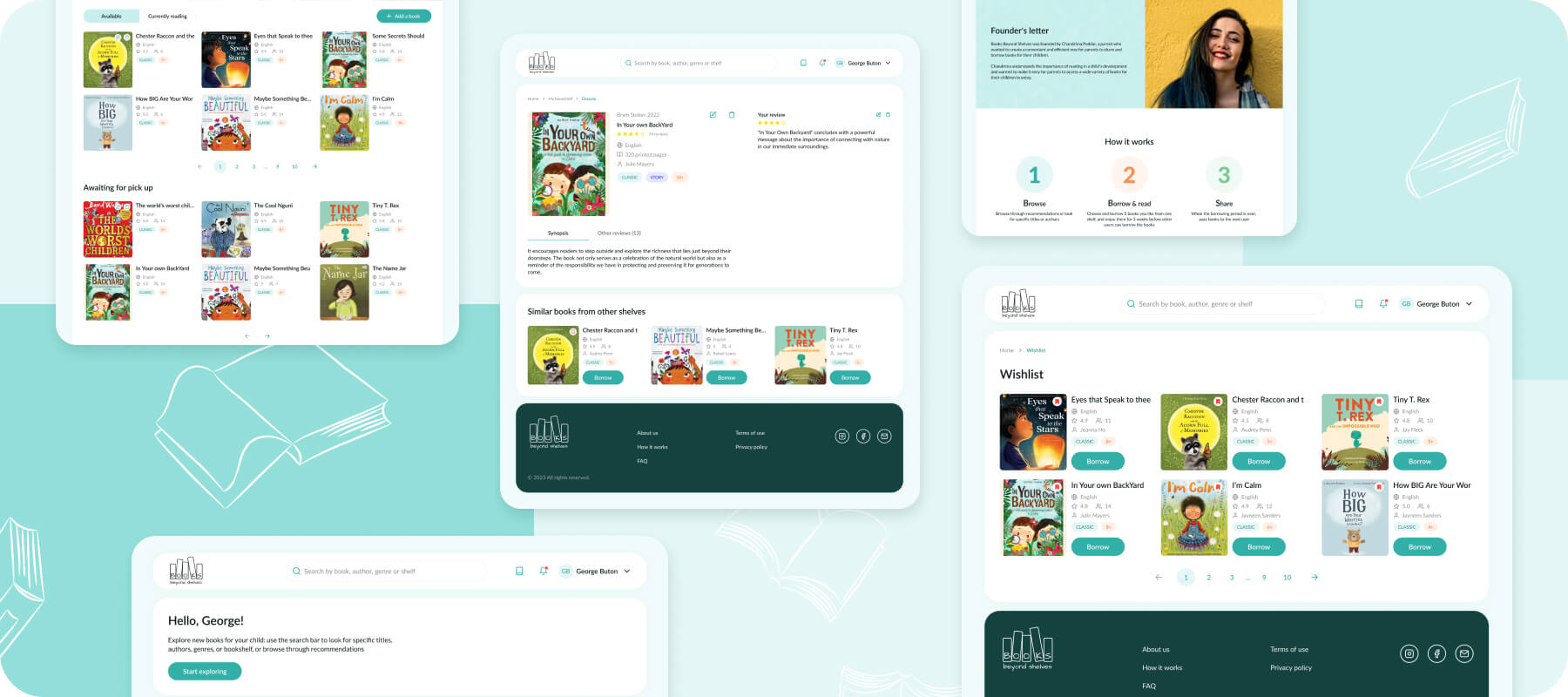 Functionality
Book Search and Discovery:
Users can search for specific books by author name, book title, genre, or keywords.
The application provides relevant book suggestions based on user preferences and reading history.
Users can browse through a diverse collection of books available for borrowing or lending within the community.
Digital Library Integration:
To add the book, a user do not need to input the information manually. The application automatically fills in the information about the book the user is trying to add.
Personalized Recommendations:
Based on users' reading history and preferences, the application provides personalized book recommendations.
Customized suggestions introduce users to new authors and genres they might enjoy.
Notifications:
The application sends notifications for book requests, status updates, and new book recommendations.
Book Reviews and Ratings:
Users can leave book reviews and ratings after reading a book, providing valuable insights for others.
Book reviews help users make informed decisions about their reading choices.
The application aggregates reviews and displays average ratings for each book
Bookcrossing:
Users can browse through a diverse collection of books available for borrowing or lending within the community.
Borrowers can request books from other users and arrange for pick-up or delivery options.
The application tracks the status of borrowed and lent books, ensuring smooth book exchanges.
Bookshelf Management:
Administrators have access to manage the book database, user accounts, and community engagement features.
Features that make this project unique
Books Search and Discovery
Bookshelf creation: Att/Edit a Book
Personalized Recommendations
Invite Registration System
Personalized Notifications
Tech stack
Frameworks
Angular

NodeJS
Languages & Libraries
NestJS

Angular SSR
Design platforms
Figma
Optional features that can be added to similar project types
Social Media Integration:
Allow users to share their book reviews and recommendations on their social media platforms.
Integration with social media accounts can facilitate easier registration and user engagement.
Multi-Language Support:
Provide multi-language support to cater to a diverse user base and expand the application's reach globally.
User Book Recommendations:
Allow users to recommend books directly to other users based on their reading preferences.
Users can curate personalized reading lists for their friends or book club members.
Reading Challenges and Rewards: (Gamification)
Organize reading challenges to encourage users to read more books within a specified time frame.
Offer rewards, badges, or points to users who complete reading challenges to incentivize participation.
A Bookcrossing and Book Review Application
We have created an Online book-sharing platform with an intuitive user interface and powerful functionality. The system helps users to upload their books to the system to clean up their apartments and find new books they want to read.
Fill out the form and receive the book by email
Error: Contact form not found.